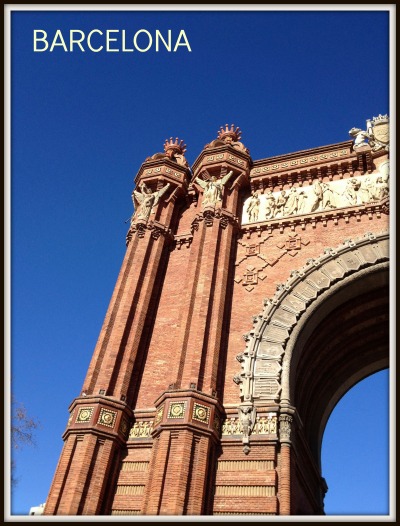 We've come to Barcelona for my birthday. By me, I mean my husband and my 4 children, aged 5, 3,and 15 month twins. It is, what can I say? A family affair.
I love Barcelona. It's a beautiful city, combining the old with new effortlessly. It's open, airy and light (except in the Barri Gotic), with elegant building and interesting shops. I love Barcelona with kids, but I also love Barcelona without kids and coming here always reminds me of pre-children visits. A much younger me sits on a balcony overlooking La Rambla, leisurely painting her toes, the air full of a sweet scent that I've just purchased in the duty free, enjoying the hustle and bustle below while I sip on a chilled beer. My favourite 'oyster and cava' bar is still in the same place, but seems less appealing with 4 kids in tow.
So on my birthday my husband sends me out to do a bit of shopping whilst the babies have their morning nap. I leave our apartment block, admiring the entrance hall which is decorated with cool white marble. The edge of the ceiling boasts a stucco of blue irises. I step outside into the busy city. It's 9 am and the air is chilly, but the sky is clear and blue. There are people about, but it's not crowded.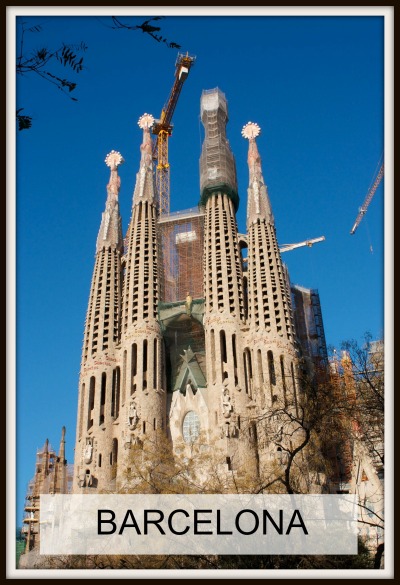 I walk down a main road, 4 lanes of traffic on each side. There is a hum of life, but it's not congested. The buildings are clean (I presume because it doesn't rain so much here). Elegant buildings, 4 or 5 stories high with delicate balconies on each window.
I look eagerly for beautiful shops, a chance to spend some money at last. There is nothing open except bakeries and banks. Of course, this is Spain. Not even Barcelona wakes until 10.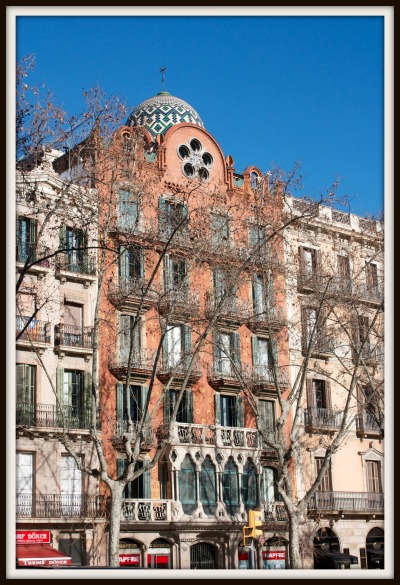 I meander towards Placa de Catalunya, enjoying the magnificent buildings and seeing the people around me. I'm surprised to hear so many people speaking spanish. I would have thought, here in the seat of Catalunya, everyone would be talking catalan. But I guess there are lots of foreigners, foreigners who either speak spanish already, or learn it first.
As I approach the Placa, there are more people. The people of Barcleona might still be enjoying a cup of coffee, but the tourists are up and about. I see a big 'Corte Ingles', the large department store and think at least I can pop in there. Nope, it doesn't open until 09.30 and it's 09.22. Another day.
I cross a large road and head back towards our end of town. My phone dies, no more photos. The light airy feel is replaced by buildings growing closer together. The streets are higgledy piggledy, instead of the gridded neatness of before. The windows are less elegant, life spilling onto the street, laundry hanging from the houses. I've stumbled into the Barri Gotic, the old centre of town. It's dirtier, more gritty here and more touristy.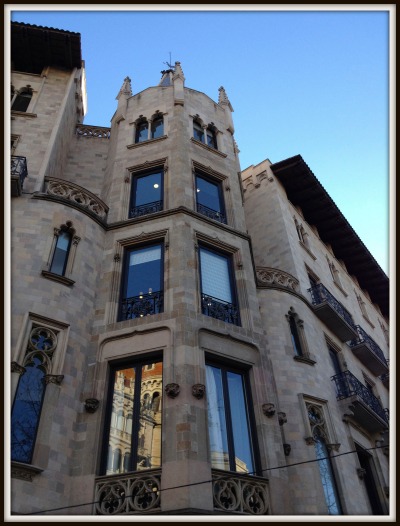 I pass a huge castle like building, with what looks like a portcullis as a door. It has 'HM' on the outside. (All the shops have their shutters down so I can't even do a spot of window shopping.) The air is filled with coffee and the warm smell of croissants. I'm drawn further into the labyrinth of the old quarter, enjoying churches, placas, people, deliveries.
Barcelona is waking up. And so will be the babies. I cut back thought the barrio and head home to the apartment where everyone is getting ready to go to the zoo. The shops of Barcleona will have to wait. That was a cheap shopping trip even by my standards!