When I was pregnant with my twins, I spent hours and hours looking at reviews for buggies. To me, it was a really big decision which one to get. It was well worth the effort. I was really lucky as this buggy was only available in the USA at the time and I had to wait a few weeks before being able to order it in the UK. (And then get it flown over to Spain.) I have never looked back. This is a fantastic buggy, it's light, sturdy and easy to push and steer. I would highly recommend it. (affiliate links)
What is important when buying a double buggy?
The things I thought were important were:
Price. I've never bought a really expensive buggy, my first one was a fantastic bargain at a NCT nearly new sale. This one isn't in the league of really really expensive. There were a few cheaper ones around, but none that ticked all my boxes.
From birth. I didn't want to have to buy 2 buggies. This one can be used from birth. The seats recline nicely and the babies were really happy in it when they were little.
Weight. Some double buggies are very heavy and large. When you're pushing 2 heifer lumps around, you don't need extra weight (you also don't need a membership to a gym.) This buggy is really light, under 10kg (35 pounds) without the car seats.
Size. I guess this depends on your car and how well it folds down. This buggy did fit in the boot of our 'normal sized family car' (until it got squashed by a wall.) Only problem was was that we didn't. So we had to get a 7 seater. This buggy does take up an entire seat, but that's mostly because the boot (trunk) is really small. I think it's a reasonable size for a double buggy.
Wheels and suspension. I didn't really want pneumatic wheels as so many of my friends with posh, expensive buggies have had flat tyres. These tyres are great, they're not pneumatic but they're not small and bumpy either. We live in a little town with bumps all over the place and the ride is great. Bumpy enough to lull them to sleep at nap time, but not so much as to shake them out of their skin.
Sturdy. Oh my is this a sturdy buggy. I know the advice is for 2 small babies but there have been many a time when I've managed 4 children on my chariot.
Neat and tidy. I think this is smart, tidy buggy. Or at least it was when we bought it. Now it's well loved, covered in crumbs and sun scream. But I don't think I can hold britax responsible for that!
Side by side.
I wanted a side by side buggy. I know that if you have them behind each other the buggy is narrower. But where we live, the pavements are so narrow that even a single buggy has problems so I thought I might as well go with a side to side. That way, they can both see out.
Width.
Width is particularly important when getting in and out of doors. This one seems to fit most doors (it's amazing how it 'just' fits quite a lot of them.) There are some in town that I can't get into, but shopping in small shops with twins isn't easy anyhow. Normally it's not the door that's the problem.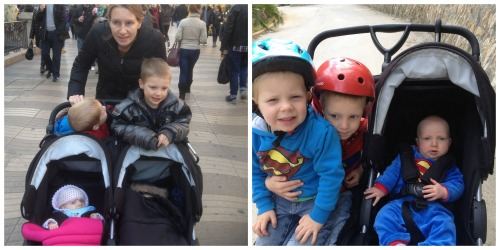 Other things to look for when buying a double buggy
Other points of interest that weren't really a sale breaker for me.
Storage space.
It has pockets behind each seat which are a great place to store your stuff. There is a basket underneath that you can access from the front (which I never do) or the sides or back. It's not huge, but it's sufficient and really handy. I also have 2 'mummy clips' on it which are great (but make sure you don't put really heavy bags on the back and then take the children out, it will topple over.)
Seat position.
The seats recline nicely so that the babies can lie down to sleep. They don't seem to sit up to 90 degrees. I'm not sure if I've never worked out how to use it properly but I can't ever get them sitting up straight, they always seem a little reclined. I would say that that was the one draw back of the buggy and the one thing I would change if I could. But actually moving the seats up and down is easy with a little pully clasp and string at the back of the seat.
Buggy board.
My buggy board (not sure what brand it was) didn't fit on this buggy. The pole at the back is quite wide so I'm not sure that others would. We learned to live with that. When my 3 year old wants a ride, I fold the handle down to horizontal and balance him on that. (Probably not recommended by britax but works really well, until he gets a sore 'botton' and decides to walk. Either way is fine.)
The handle.
The handle has a soft foam padding which is good. It is easily adjustable in height (it swivels around a point rather than actually going up or down.) It goes all the way across the buggy so that it's really easy to steer with one hand.
Rain cover.
The package I bought came with a rain cover which fits well. It doesn't rain much in Spain but when it does rain, the heavens open. Safe to say, it's water proof. And wind proof which is much more important for us here. Sadly, the velcro tag did pull away a bit and in fairness to britax they did say it was still under guarantee. I've just never got round to sorting it out.
Now all Britax need to do is invent a self cleaning buggy and I'd be on cloud 9!
If you want to order it, you can order it from amazon US or UK. (affiliates)
And don't forget that if you're having problems with lack of sleep, you can get your free copy of My Baby's Sleep when you sign up for the newsletter.