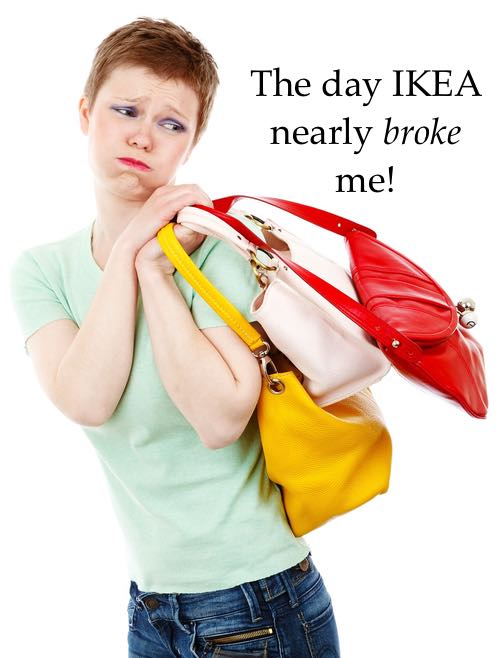 I have to say I was looking forward to my trip to Ikea. I knew that it would be a long day but we're moving house from furnished to unfurnished. Great excuse to buy lots of lovely new furniture. And all those other little bits and pieces that Ikea has to offer.
I roped a friend into help as I had to take the twins with me (only 6 months old.) Journey down was fine, an hour and a half, not too far but not too close either.
Hooray for free IKEA coffee!
We started with our free coffees (babies needed some milk) and got off to a good start. I haven't previously bought much more than a billy bookshelf from Ikea and today I had a list that was 6 pages long. (I'd tried to order it on-line to discover that you can't order things on the internet in Spain, but you can make a list of things you want.) So, first thing I discovered was that not only did I have to pay for delivery, but I had to pay for a 'picking' service so that someone would collect all my goods for me. I had to sort this out down in the warehouse. OK, no problem...
Although I had pretty much decided what I wanted to buy, I wanted to see it all to be sure. Foolish mistake! Had I forgotten the labyrinth that is Ikea?
More free IKEA coffee!
We didn't even make it through the first floor before we had to stop for lunch (and more free coffee.)
Why do all the mattresses feel exactly the same? It wasn't just me, there were several bemused spanish people rolling around on mattresses wondering why they were all exactly the same (except the price.) Wasted heaps of time there, another rookie error.
Finally made it downstairs to the warehouse section. Ahh, did the 'picking' service work here too? No one seemed to know. The third person I asked assured me it did. Great, I skipped most of the warehouse and went straight to the garden furniture. I'd particularly chosen that day as it was the last day of a 10% discount on garden furniture. But by the time I reached it, my energy levels had plummeted and all I wanted to do was leave. Garden furniture can wait, Ikea has beaten me.
We went in search of the 'picking' man. He took ages and then tried to tell me I could order everything on-line, until he checked with his mate, who said I couldn't. Not only that, I could only get stuff that was in the warehouse, so I'd have to go back to get the plates and glasses that I'd skipped. Sigh!
Time for an IKEA coffee?
My poor friend, my poor babies. Poor me. We'd come this far, we had to plough on. More free coffee, more milk for the babies.
We finally made it to the check out to discover that my debit card had a limit on it. I guess I should have thought of that. In the UK I have more than one card but today I didn't. They wouldn't let my husband use his credit card over the phone, I couldn't transfer the money when I got home. I phoned the bank, initially in Spanish, they wanted some number and I didn't understand what they were saying. I tried again in English but got cut off as my phone ran out of credit. IKEA let me use their phone but for some reason it didn't work. Eventually my poor friend paid the difference (I think she was just desperate to get away. I transferred the money to her as soon as I got home.)
I guess it's one of those things about living in a different country. When you have problems they're much more difficult to sort out because of language problems and cultural differences. (I'm not saying that that couldn't have happened in the UK, but it would have been easier to rectify.)
We survived IKEA.
Sigh, an hour later and we made it to the transport section to arrange for delivery. Finally at 6pm (having arrived at about 10.30) we got in the car and headed home.
What a day. For anyone thinking of attempting the same, my advice would be to go without children if possible and to make your list at home and just give it to the 'picking' man. Oh, but in the UK you can order stuff on line. (Bienvenido a Espana).
That night I dreamt that there was another whole IKEA floor and then I woke up to remember I forgot to buy face clothes. I'll have to go back…