You know those days when you've not thought about dinner? You want something quick and easy that will satisfy hungry tummies yet is still healthy and full of good nutrients? At times like that, spaghetti carbonara is my "go-to" quick, healthy dinner.
Spaghetti Carbonara is one of my children's most favourite dinners. It is so easy to make. On the table in less that 30 minutes. I of course, add lots of vegetables to make it even healthier.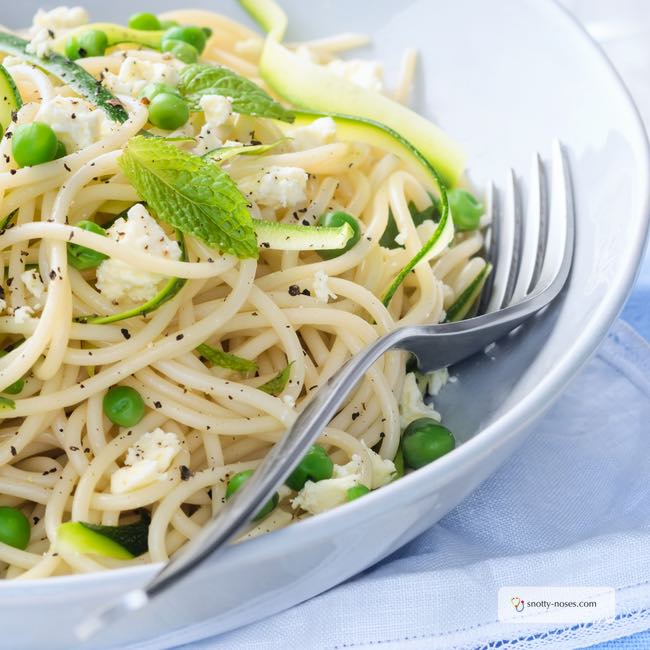 Store Cupboard Ingredients
One of the best things about carbonara is that you can make it with things that keep in the fridge or freezer. Eggs, grated parmesan (I'm lazy and buy the powdered stuff) and peas from the freezer. When we go away for a few days, I always make sure there are eggs in the fridge, waiting for us to make carbonara when we get home.
Add Extra Vegetables
I make this version with peas from the freezer and a zucchini (or courgette). You can use different vegetables too. Plus you can serve extra vegetables, or a crisp salad on the side.
Eggs are Healthy
I always think that eggs are an under used item in the kitchen. They seem to have a bad name for themselves but actually, they're full of great nutrients, including protein. Plus, they're cheap and kids love them.
Ingredients for Spaghetti Carbonara.
I make it for 6 (3 adults, 4 young kids)
1 egg for each person
1 onion, chopped,
1/2 cup (100 g) bacon, chopped
1/2 cup (100g) grated parmesan (half a packet)
1 zucchini (courgette) chopped,
6 cups (500 g) dry spaghetti (that's approximately 75g per adult and 50g per child)
3 cups of peas
How to make Spaghetti Carbonara
Put your pasta water on to boil.
Fry the onion, bacon and courgette in a large frying pan.
Cook the pasta according to the packet.
Cook the peas (I add them to the pasta water just before the pasta is ready.)
Beat the eggs and parmesan together.
When the pasta is cooked al dente, drain it and add it to the frying pan with the onion and bacon. Keep a table spoon of the pasta water in with the pasta.
Take the pan away from the heat (otherwise you'll end up with scrambled eggs). Add the eggs and quickly mix it all together.
That's it! Ready to serve.
If you have never made carbonara, it's so simple.
I hope your kids love it as much as mine do.