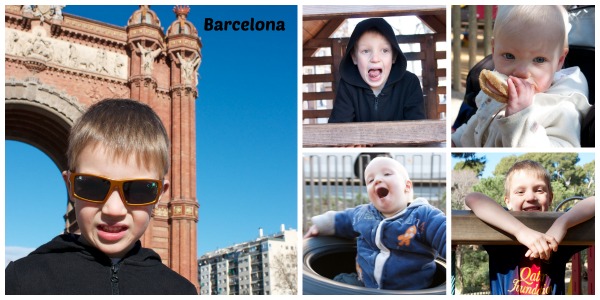 Park Guell
This year, for my birthday, we went to Barcelona for a couple of days. It's only an hour and half from us, so totally do-able with kids. Now, I know that I have 4 children and that life should resemble a military operation, but I'm not that organised. So when I phoned to ask if we could check in to our apartment early, I was told yes, but not THAT early. "It's impossible." We decided to go to Park Guell for a picnic, you know, the one with all the lovely Gaudi bits all over the place. Most famously, the 'drac' or lizard that sprawls itself down a flight of stairs. The park was intended to be a rich persons housing project, funded by Comte Guell in 1902. However, only 2 houses were ever build (and they weren't even designed by Gaudi.) But he did design some of it, the amazing walkways that resemble viaducts, lots of his beautiful mosaics everywhere and the gingerbread house at the entrance.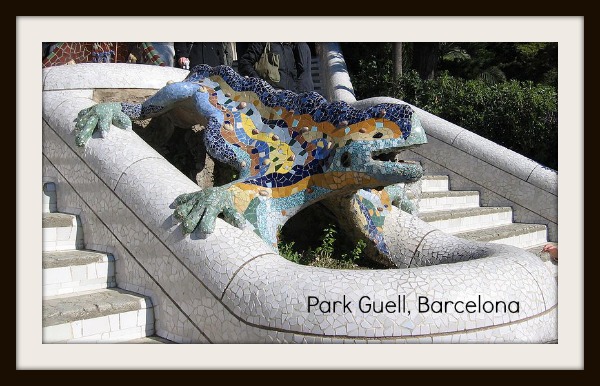 We arrived, and managed to find parking right outside (possibly because it was a Thursday in February and it's €3 an hour.) The place was bustling with tourists, mostly Japanese, who were very taken with our very blond babies. Last time I was at Park Guell, was another lifetime ago (with a previous boyfriend, ssshhhh). I have memories of a hot lazy afternoon, ambling around, taking in the view and the architecture. A refreshing 'cervizita' (small beer) in the sunshine and a plate of salty pistachios to help combat the heat. Not so this time. A rather different affair, with 4 children under 5.
Sadly, they've started charging for the main Gaudi area. I say sadly as I think it subtracts from the 'municipal gardens' feel that it had before. But entirely understandable with the number of tourists around and 'la crisis' that is still affecting Spain badly. We didn't pay to go in, the children needed feeding and we didn't really have time for both.
There was quite a lot of hanging around to begin with. Sleeping baby, 5 year old needed the toilet (never a speedy operation at the best of times.) Finally we made it to a play park area for our picnic lunch.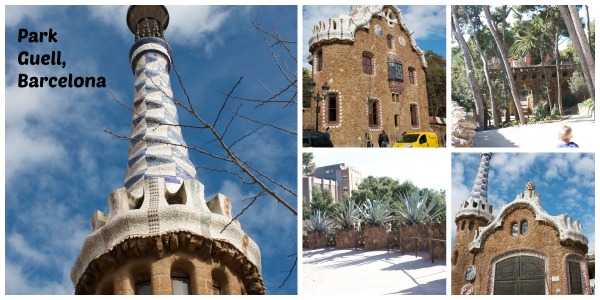 And then a quick stroll amongst the viaducts. Some of Guadi's buildings, like the Sagrada Familiar (the still unfinished cathedral), make me think of those drip castles we used to make as kids on the beach. You take some soggy, wet sand and let it run through your fingers. Cool, wet and grainy, it splotches, one drip on top of another, making weird and wonderful blobs. Like the Sagrada Familiar and the viaducts at the Park Guell.
The park is half way up a hill and has stunning views of the whole of Barcelona, looking out to sea. Just the right position for the rich of Barcelona who used to (and still do) avoid the poorer dock areas that are lower down. Presumably the Infanta Christina (the King's daughter, the one whose husband is being sued for fraud) lives right at the top of the hill, we joked in my catalan class last week.
Time is pressing on so we hurry back to the car. We have to meet the agent at the apartment. We 'zoom' down the hill, as quick as you can in Barcelona traffic. I jump out of the car, spanish style, on the side of a really busy roundabout. There's no pulling up here. The apartment is great, 3 bedrooms with a balcony and a beautiful tiled floor. And comfy beds. What more do we need?
The Sagrada Familia
We rest a bit before sorting out the car parking situation (huge and expensive hassle) and then traipsing to the Sagrada Familia. I can only call it 'traipsing', everyone was getting tired by then. Galen said to me, "you do know this is a pretty long walk for a kid don't you?" Luckily we have a fantastic buggy that can hold a 5 year old, a 3 year old and a 15 month old, plus baggage. Leaving just one 15 month old to be carried. We admired the magnificent building briefly. The children played in another playground. I looked with envy at the solitary people, sat outside on a bench reading. We trudged back. Exhausted and hungry.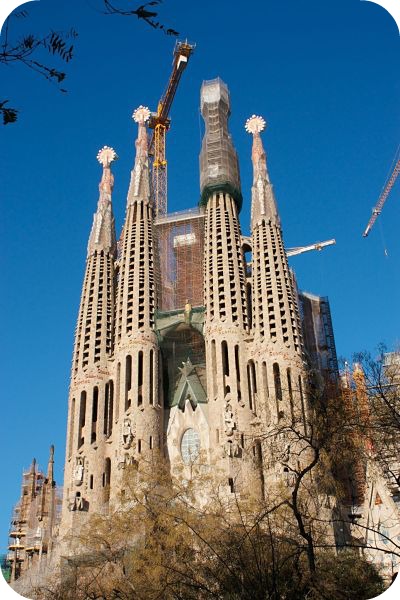 Barcelona Zoo
The next day, after a good night's sleep, we all felt much better. My birthday treat, a visit to the zoo. (Yeah, I know, not sure when my birthday treat morphed into the children's 'not-birthday treat' but I have 4 kids, what can you do?) We had a great day. We were there for hours and saw, you guessed it, lots of animals. (Plus a dolphin and seal show.) They also had a fantastic playground. (The Spanish do playgrounds well. Which is a god-send if you have young kids. We visited 7 different playgrounds in 3 days.) Anyhow, it transpires that animals are about as difficult to photograph as children...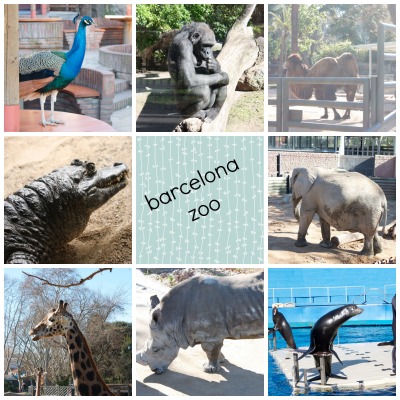 The next morning we mooched around a bit before heading home at lunchtime. Another, successful trip to Barcelona. The country mice visit the big smoke. It was a great few days. Barcelona is a magnificent city and totally doable with kids. (And if you're interested we stayed at MH Apartments who I think are reasonably priced and have a range of clean apartments in different areas of the city. Great for families.)