Apple strudel is one of my childhood memories. My ginormous, flamboyant Hungarian grandmother used to make strudel of all flavours, apple, cheese, poppy seed. My favourite was cheese but her most usual was apple strudel. I remember the sweet smell filling the house then the crunch of the warm crispy pastry which gave way to soft aromatic apple filling. Apple strudel is such a treat.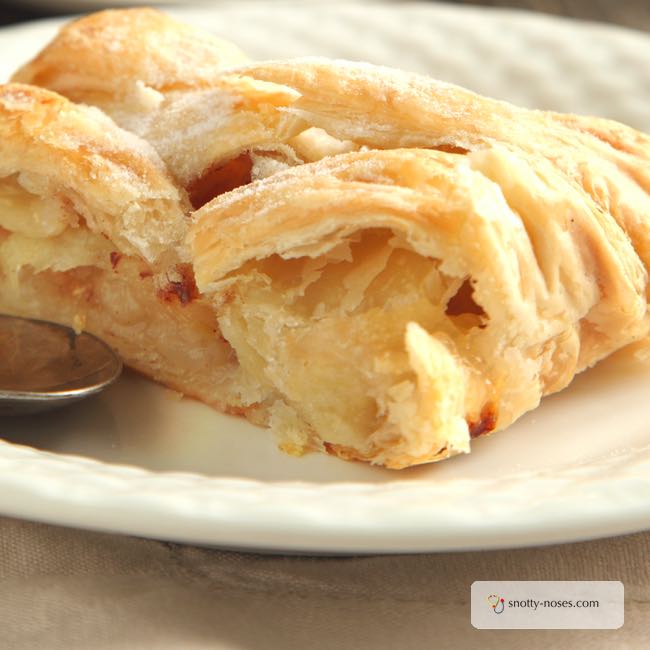 My father has kept up the tradition of making apple strudel. Last time he came to stay, he made it with the children. They loved it so much that they've been nagging for a whole year to make it.
Apple Strudel is Easy to Make
Eventually I gave in and decided to try making my own apple strudel. I realised that if you use a food processor (and cheat with shop bought pastry) apple strudel is actually super quick to make. And healthy too. Our apples are lovely and sweet and when you cook them, the natural sugars creep out and make them taste even sweeter than raw apples. I didn't need to add any other sweetner (other than raisins).
It's hard to believe that this easy, beautiful little pastry contains about 80% apple, with no added sugar. My kids love it and it's now my "easy to make" afternoon snack and treat.
Ingredients of Apple Strudel.
1 packet of shop bought puff pastry. I prefer the butter ones if you can get them.
8-10 apples.
1 slice of bread.
1 tsp cinnamon.
1 handful of raisins.
Oven at 180°C (360°F)
How to Make Apple Strudel
Turn the bread into crumbs (I use a magi mix but any food processor will do.)
Switch the blade to grater and grate the apples (you'll need to chop them up to take out the core.) It doesn't really matter how many apples you use. I like to use as many as I can but my strudel looks more like an anaconda than the elegant serpentine ones my grandmother made.
Add the raisins and cinnamon and mix the whole lot together.
Take your pastry and roll it a bit thinner. You want a long thin shape if you can get it. (Mine comes round but I just thin it out a bit and fold in the edges.)
Put the mixture in the middle of the pastry, in a long line across the middle.
Fold the edges around the sausage of filling and pinch the pastry together.
Brush with milk or egg if you like (I often don't bother.)
Place in the oven for 30-40 minutes. (Keep an eye on it as it depends on how long your pastry take to cook). You want the pastry to be crispy all the way through and golden brown on the top.
Easy! And when I do it by myself it takes no longer than 10 minutes. When it comes out, I let it cool a bit, cut it in half so that we have half for tomorrow (it's lovely cold). Idivide the other half of the strudel up between the 6 of us and we tuck in.
The kids love apple strudel and I'm happy that it's a healthy snack (or desert).
Healthy Snack Guide for Children

If you find it really difficult to provide healthy snacks for your children, here's the perfect answer. My simple guide to how to make snacks healthy will show you how to make easy and simple snacks that are healthy. Simply enter your email address (which will sign you up to my newsletter). You'll receive your guide plus you get weekly tips from me to help encourage you. If you ever want to unsubscribe, there is a link in every email.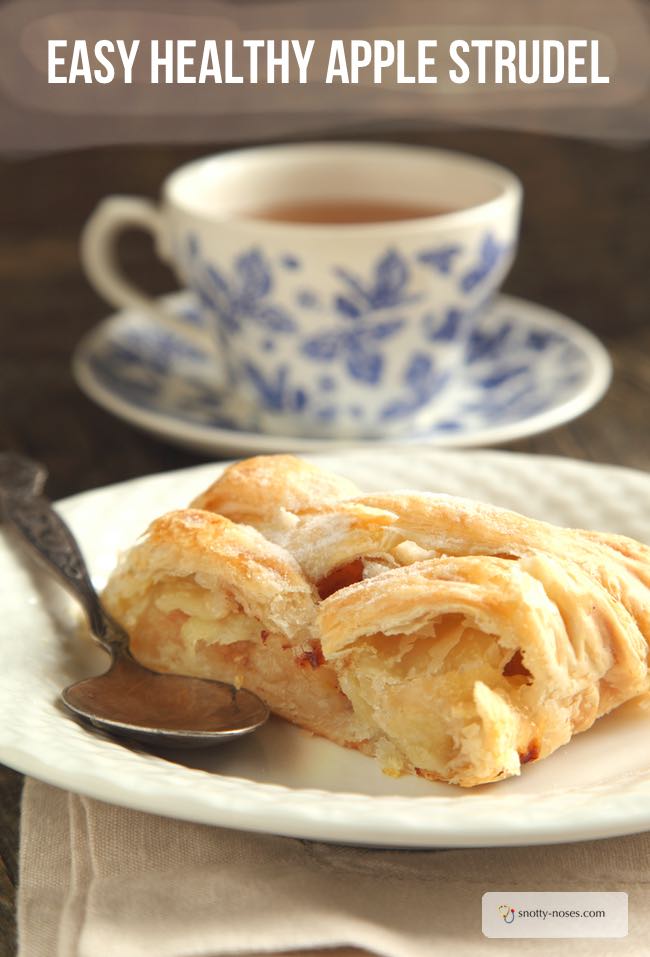 Save