After a recent trip to Pisa, we decided to have a go at making biscotti. They are everywhere in Italy. They are a hard, sweet biscuit or rusk that have lots of healthy nuts in them. A great healthy snack.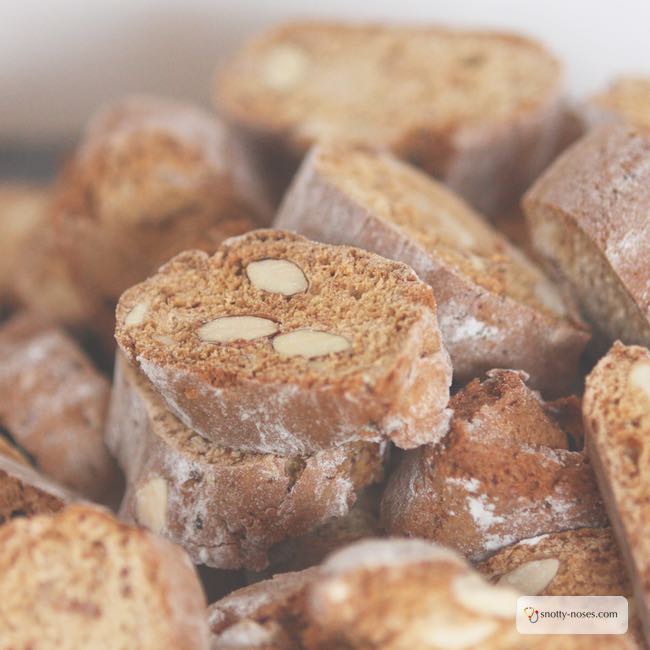 In Italy they use them as a rather grown up desert to dunk into a sweet desert wine. They are also great with coffee, hot milk or just water.
Biscotti are Great for Babies
If you have children under the age of one who can't eat sugar, or you're trying to cut your sugar intake, you could easily swap the table sugar for more dates. (I know it's still sugar but it doesn't count so much!)
They're hard so would also be good to chew on for teething babies (if you're worried about nuts you could either leave them out and put in some dried fruit, or grind them up so that they aren't a choking hazard.)
A Healthy Snack you can Make with Kids
They are so easy and so yummy! With lots of nuts and not huge amounts of sugar, they're a healthy snack too. (I adapted the original recipe to take out some of the refined sugar.) They will keep for a few days in an air tight tin.
And you guessed it, you can even make them with four young sproglets helping too.
Ingredients of Biscotti
200g (7oz) self-raising flour
200g (7oz) nuts of your choice (we used almonds and hazelnuts but you could use macadamia or pistachios too.)
50g (2oz) dates (without their stones)
2 eggs
75g (2.5 oz) sugar
How to Make Biscotti
Whizz up the dates in a food processor so that they are finely chopped.
Add the eggs and flour to make a sticky dough.
Roll the dough into a flat 'rectangle' (it doesn't have to be exact.)
Add the nuts along the middle and fold the dough around it so you have a long sausage. (Or you can mix the nuts into the dough and then roll it into a sausage but don't add the nuts to the food processor unless you want them chopped up.)
Bake for 30 minutes at 160 C. (320 F)
Cool for 10 minutes.
Cut into 1 cms slices and place them back on the baking tray.
Bake for 10 minutes at 140 C. (280 F)
Enjoy!