The door opens. The quietness is broken by shoving, pushing, shouting. "What's for dinner?" they yell, flinging their bags on the floor. I open the oven door. Steam escapes, cheesy, mouth watering aromatic steam. "Cauliflower Cheese? I don't LIKE cauliflower," they groan. "Why do you always make healthy dinners?"
Half an hour later, I'm packing the dishwasher. There is no need to scrap off the scraps. I think some of the plates may even have been licked. So much for not liking cauliflower.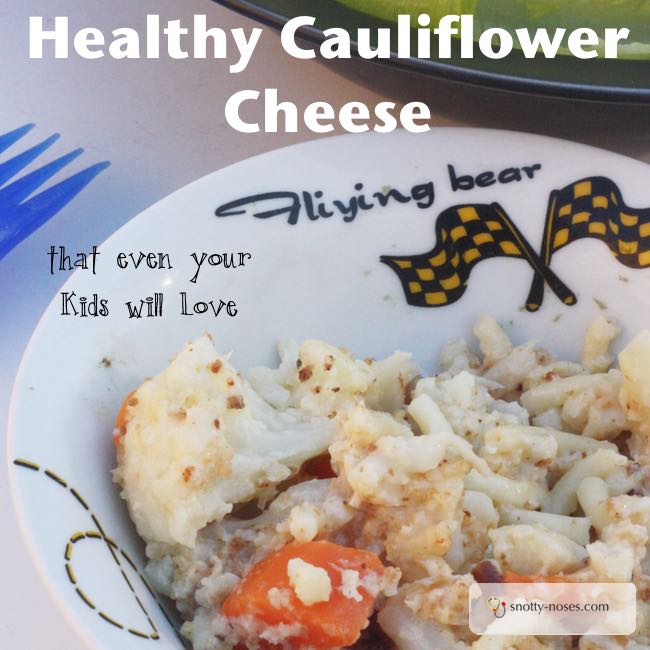 How can a dinner be so easy to cook, so healthy and so tasty? Mine of course, is chocked full of healthy veggies.
And you know what my husband said?
Stonking!
Ingredients for Cauliflower Cheese
1 cauliflower, chopped up
3 or 4 large carrots, peel and chopped
1 cup (250 g) pasta
2 cloves of garlic, crushed
250g grated cheddar
1/2 cup (125 mls) full fat yoghurt
1 cup (250 mls) cream
Bread crumb topping
1 cup (200 g) bread crumbs
olive oil
rosemary
A small amount (30 g) cooking bacon (optional)
Oven at 180°C or 360°F
How to Make Cauliflower Cheese
Put the carrots and cauliflower in a large pan of boiling water.
Boil for a couple of minutes (you don't want to over do them).
Cook the pasta according to the packet. (I normally do them all in the same pot, you just need to get your timing right.)
Drain and mix together if you've done them in separate pots.
Add the garlic, grated cheese, cream and yoghurt.
Mix thoroughly.
Place in a large oven proof dish.
Make your bread crumbs by adding all the ingredients to a whizzer (I use a Magimix, they're great. That's an affiliate link.)
Sprinkle on top of your cauliflower mixture.
Top with grated parmesan if required.
Bake in the oven for 10-15 minutes.
I often prepare it ahead and then put it back in the oven. If you do this, it will need to be in for longer as it needs to heat up from cold. Probably 45 minutes to an hour.
Serve with a fresh green salad or finely chopped cabbage.
It is true. I always do make healthy dinners but I make really tasty healthy dinners.
Looking for more recipes?
YUM! Is a collection of healthy recipes from 17 busy mothers. Our favourite, easy healthy dinners that our kids love. Grab your copy now.