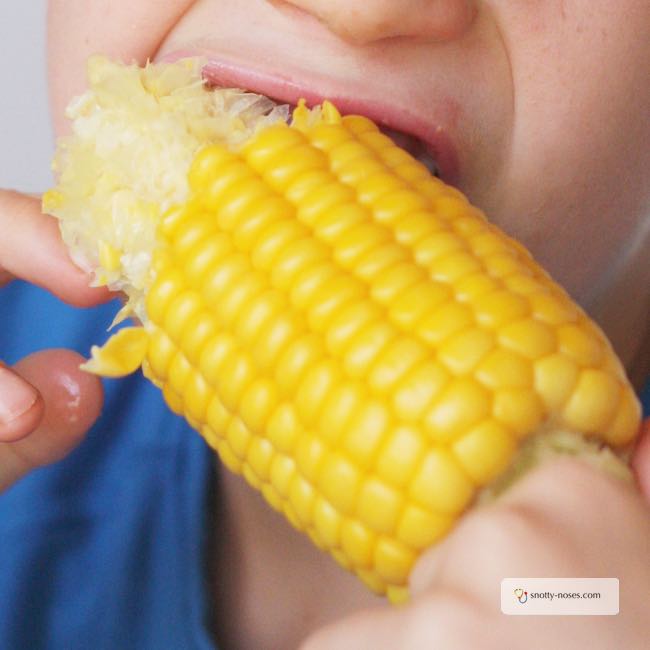 Healthy lunch ideas don't have to be complicated. Healthy lunch ideas don't have to be expensive and they don't have to come out of a packet. Vegetables and salads are quick and easy. My kids love corn on the cob. It is a really healthy, easy lunch.
Cooking Corn on the Cob.
It couldn't be easier. Bring a pan of water to the boil and throw in your corn. I cut mine into half but you don't have to. Let them boil for 5 to 10 minutes. You don't want to overcook them. Drain them and run them under the cold tap if you want to cool them a bit.
That's it. Simple and easy.
If you like you can add butter or oil but I don't find it necessary. If you buy good quality sweet corn it has a beautiful taste that doesn't need any additions.
Corn on the Cob is Healthy.
It's a great source of fibre. Plus like all fresh fruit and vegetables, it contains minerals and vitamins.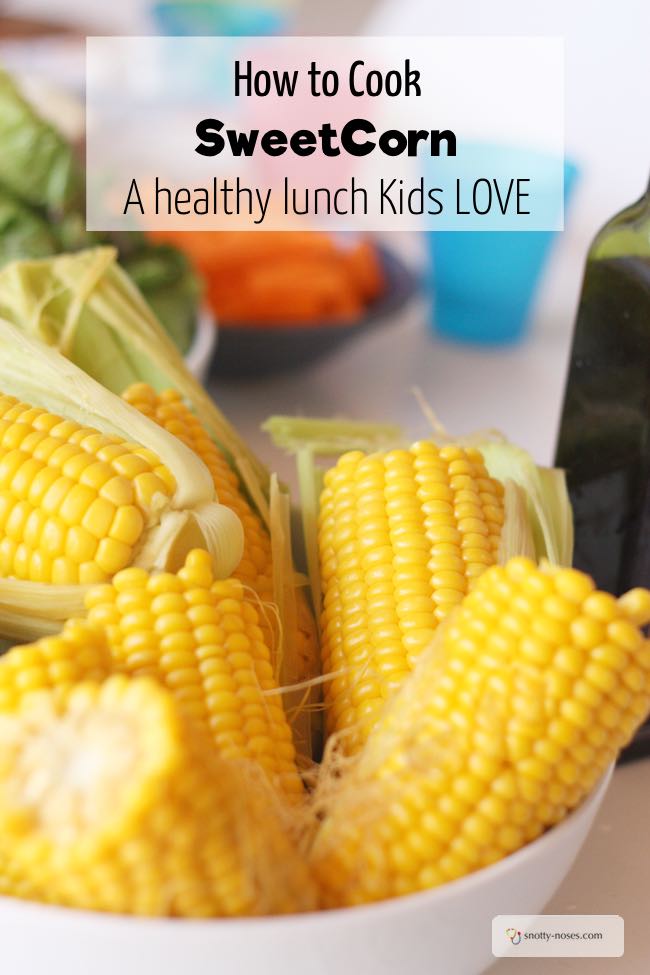 Our Healthy Lunch
For our healthy lunch, I put out some simple tomato salad, a simple lettuce salad, some cucumber and chopped carrots plus the sweetcorn. There was also homemade bread, some anchovies and some olive (as a special treat). I put out a small amount of protein as my children are protein fiends and would happily eat a lunch that consisted entirely of cheese. Children do need protein but they also need to learn to eat vegetables. They don't need lots of protein at every meal.
They didn't all eat everything but they all ate some vegetables. Galen (6) ate mostly sweet corn. Dante (5) didn't want to try the sweetcorn but ate tomatoes and anchovies. Celeste and Sebastian (2) ate some sweetcorn, cucumber and carrot sticks.
Offer your children lots of vegetables
The more vegetables you offer, the more they are likely to eat. Of course they won't eat everything but if I had just offered tomatoes, only two children would have eaten any vegetables. By offering a large variety, I am increasing the overall amount that is eaten.
Keep it Simple and Enjoy it
Chopping vegetables doesn't take long. You can even get the kids to help. It's quick and easy and a really enjoyable healthy lunch.
Free Healthy Eating for Children Video Course

If you'd like to know more about how to help your children eat a healthy diet, you can sign up for my free video course. It's a series of really short videos that are sent to you over a few days. Little bite size tips that you can start to implement straight away. You need to put your email in to sign up, and after the course, I'll continue to keep in touch with my weekly newsletter. You can unsubscribe whenever you like.