The kids climb out of the pool and race, dripping wet to the awaiting lunch table. The sun is fierce so we shelter in the shade of a tree. Ice clinks as I pour out the refreshing water. The table is spread with french salads, meats and pungent cheeses. This is our healthy lunch, french style.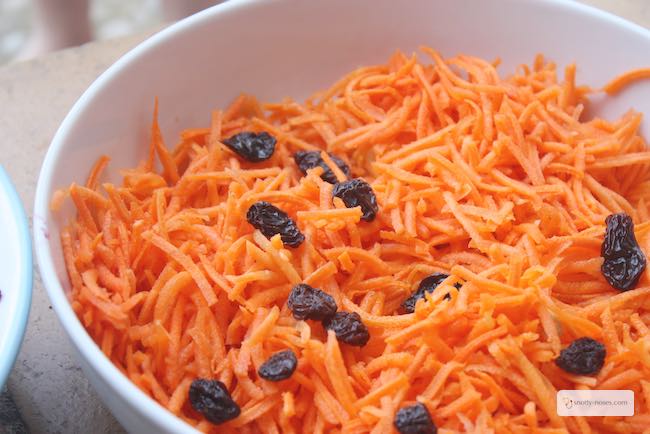 My mum lives in France and one of the best things about our holidays there is we get to stuff ourselves with French cuisine. (and drink french wine.) My second son is a "ponky cheese" fan and will happily eat a blue cheese that is attempting to crawl off the plate. But my all time favourite is remoulade, which comes in various forms.
Remoulade is basically a grated vegetable with a delicious sauce on it. Reasonably healthy, but it does depend on the sauce. The typical remoulade is celeriac remoulade, made from the root vegetable celeriac that tastes a little like celery. I adore celeriac but it's difficult to buy here in Spain so let's move on.
The other typical remoulade is carrot remoulade, grated carrot with a pokey dressing. I could eat the stuff all day. Seriously, there's something about it, I can't stop eating it. I daren't look at the ingredients as I'm sure it's full of salt and cheap oils and other ingredients I've never heard of. Well, it's all in french, so who knows.
When we got home from France a few weeks ago, I decided to have a go at making it. My oldest son is a carrot lover. That's to say he loves carrot stick. He eats them pretty much every day. I though it was time for a change.
At first he was dubious. Of course, we all know about introducing new foods and that it takes time to get used to new things but that we should carry on presenting new foods anyway. I didn't push it, after all, there's more for me if he doesn't want to eat it.
And it turned out SO good. I just used olive oil, vinegar or lemon juice and a dollop of mustard in the dressing. All healthy stuff so I really could eat it all day if I wanted to. (Although you do turn orange if you eat shed loads of carrots.)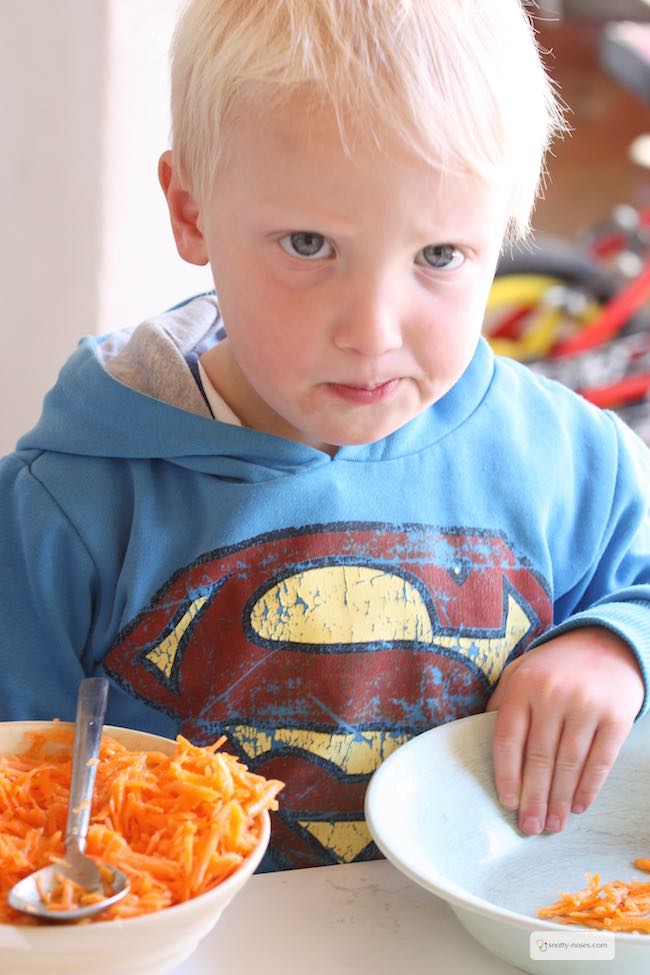 Food Pairing. Add Enticing Raisins
As much as I'd happily gobble up all the carrot salad for myself, I do feel it's my duty to at least offer it to my kids. So I sprinkled some raisins on top (and told them they weren't allowed to just pick them out.)
Now even the younger ones want to try my amazing carrot salad. (The rule is they have to put it on their plate if they want some. Then they just pick the raisins out but at least the carrot made it as far as the plate. And if they didn't eat it, guess who did? Nothing goes to waste in this house!)
Ingredients for Amazing and Easy Carrot Salad
Carrots
Olive oil
Vinegar or Lemon Juice (I used white wine vinegar)
Mustard (I've dried dijon french mustard and pokey traditional english mustard but you mix it up so it's not so strong when you eat it.)
Raisins or sesame seed to top (optional)
How to Make Easy Carrot Salad
Grate the carrots (easy job for kids to do, just make sure they don't grate their knuckles on the grater).
Mix up dressing. I don't really do "quantities" but you're looking for about half as much vinegar as oil with a dollop of mustard. Roughly that translates as 2 tablespoons of oil, 1 tablespoon of vinegar and 1 teaspoon of mustard. Seriously, just splash it all in!
Pour dressing on grated carrots and mix it all up.
Add toppings if you want. I generally don't bother.
What could be easier? This easy carrot salad makes an awesome healthy lunch and if you make too much (unlikely) you can just keep it in the fridge until the next day.
So now you don't even have to go to France to enjoy a bit of French cuisine. You can eat this healthy and easy carrot salad in your own back garden and say "oh la la" from time to time instead.
Healthy Eating for Picky Toddlers. A Pediatrician's Guide to Happy Meal Times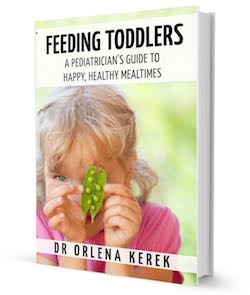 Exciting news! My new book is due to be released at the end of August 2016. If you'd like to know when it launches so you can grab your free launch copy, sign up to receive notifications. If you're already on my list, just follow the link and enter your email, so that I know you're interested.
Pin For Later