"Do the dates have sugar in them?" I ask. The man at the market stall looks at me as though I've asked if the moon is made of cheese. "Of course they do, they're dates!"
"Do they have added sugar?" I clarify.
"No, why would you want to add sugar to dates?"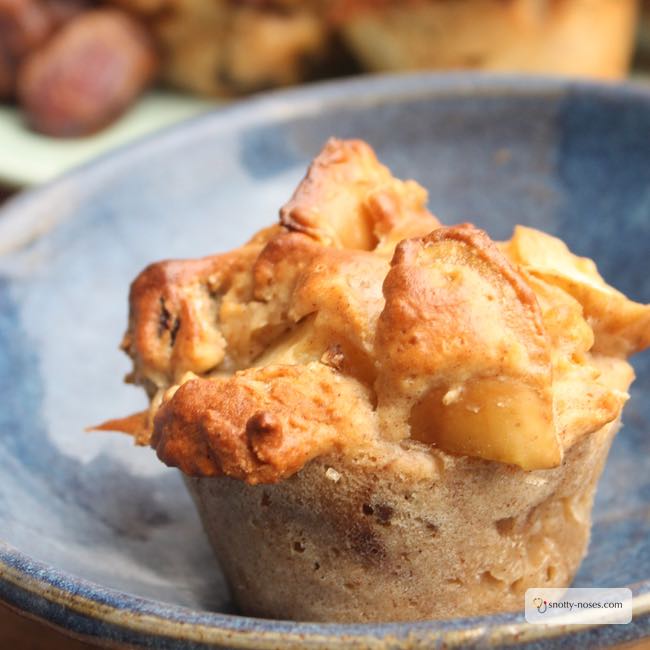 It's a good question. Dates are packed full of naturally occurring sugar, giving them a delicious sweet and gooey taste. My kids love dates and will eat them just as they are by the bucket load if I let them.
It was also a reasonable to ask if the dates had added sugar as many packets of dried fruit, including dates, have sugar and oil added to them.
I prefer to buy dried fruit without extra sugar. Dried fruit is naturally sweet and doesn't need an extra adornment.
These date and almond muffins are sticky and delicious. They only have a small amount of added sugar. (You could probably leave it out and they'd be fine.) The fat comes from the greek yoghurt. We need some fat in our diet and so do kids.
Ingredients of Date and Almond Muffins
250g (2 cups) flour
1 tsp baking powder
50g (1/3 cup) brown sugar
2 pots (125 mls each) of full fat, no added sugar, greek yoghurt
3 eggs
4 apples
100g (1/2 cup) dates
50g (1/2 cup) flaked almonds (or any nuts you like)
1 tsp cinnamon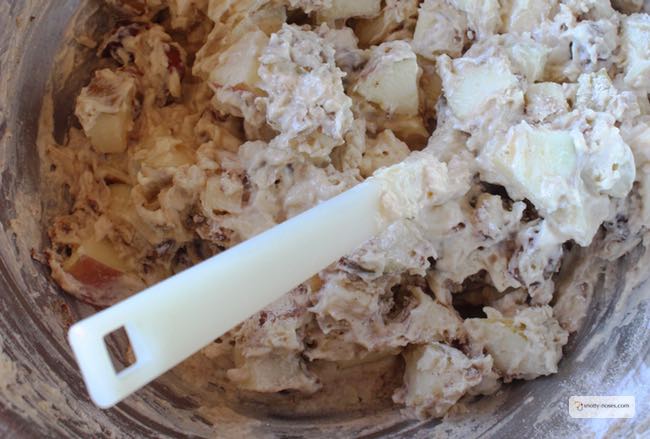 How to Make Date and Almond Muffins
In your "wet bowl" whisk the eggs, sugar and yoghurt together.
In a large "dry bowl" sift the flour, baking powder and cinnamon.
Chop up the apples.
Then pour everything into the dry bowl.
Mix it gently so that you have a lumpy looking batter. It looks like apples with a bit of batter around them.
Put them in the silicon moulds
Bake at 180°C for 20-30 minutes. (Check them after 20, you want them to be brown on the top and "solid" colour at the bottom. They shouldn't look translucent.)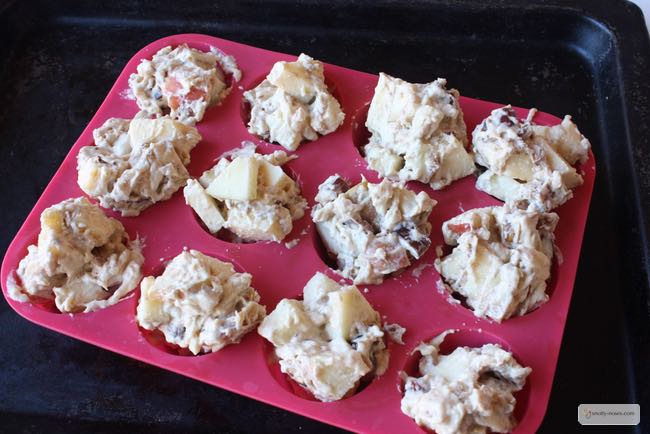 Dates are Good for You
My kids love dates because they are sweet, sticky and generally yummy. I love them as they are packed full of fibre which helps prevent them from getting constipated if they are going through a phase of not eating vegetables.
Dates are also full of healthy nutrients such as vitamin A. I like my kids to get their vitamins and minerals from healthy food rather than a packet of pills.
Nuts are Good for You
I know nuts can get a bad rap as they are full of fatty oils but those fatty oils are healthy unsaturated fatty oils that will keep little tummies feeling full up for longer. They are also full of protein, vitamin E, anti oxidants and minerals.
In short, almonds and other nuts are good for you.
Cooking with Kids
Muffins are a great place to start cooking with kids. In fact, it was my 7 year old son who started me on my love of making healthy, easy muffins. He managed to make these apple spice muffins all by himself.
Today my 3 year olds twins are "helping". They cracks some eggs, sieve some flour and generally make a bit of mess. They are very proud of themselves.
The twins pile the muffins high onto a plate and offer them around with a huge grin on their little faces. Everyone agrees that they are delicious. Sweet and yummy.
My kids don't notice the low sugar content. Why would they? The muffins are tasty just as they are. My kids enjoy eating the date and almond muffins even more than they enjoyed making them.
Free Healthy Eating for Children Video Course

If you'd like to know more about how to help your children eat a healthy diet, you can sign up for my free video course. It's a series of really short videos that are sent to you over a few days. Little bite size tips that you can start to implement straight away. You need to put your email in to sign up, and after the course, I'll continue to keep in touch with my weekly newsletter. You can unsubscribe whenever you like.