Celeste is normally grumpy after her afternoon nap. She likes to express herself with grunts and screams. Today was no exception. I carried her downstairs to show her what we'd been doing whilst she was asleep (making healthy snacks for the Christmas tree). She was yelling in my ear. As we turned the corner, her little eyes lit up. She stopped screaming, a big smile on her face. A little finger stretched out and pointed to the tree, adorned with baubles and cookies.
"Christmas!" she said.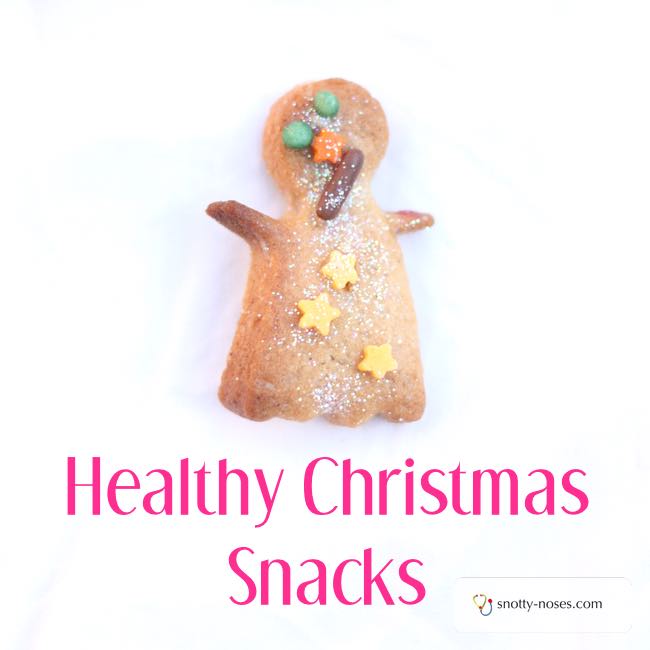 Part of the excitement of Christmas is the build up. All those amazing lights, fantastic decorations and delicious food that we eat. They all have "Christmas" stamped all over them. They remind us that Christmas is just around the corner.
Why not try a Healthy Treat?
Kids love a Christmas treat but it's easy to make them covered in sugar and how shall I put it, "not exactly healthy". So I've asked all my blogging friends to help out with some healthy Christmas treats so that we can enjoy the fun of Christmas and still have healthy snacks.
Some are more healthy than others but I suspect that they are all more healthy than your average shop bought packet of cookies.
Ginger bread cookies these are the ones that we made. File under "healthy-ish!" (pictured)
Christmas Tree with Apple and Cucumber Snowmen Oh so cute! from Sugar Aunts (pictured)
Christmas Fruit and Veg Snack Skewers from Eats Amazing
Red Nose Reindeer Sandwich from Eats Amazing
Santa's Favourite Cookies from Cutting Bites
Easy Apple Reindeer Snack from Craftulate
Maple Cinnamon Nuts from HenFamily
Christmas Tree Appetiser from KidzActivites
Christmas Tree Brownies from KidzActivities
Santa Chocolate Fountain Dippers from KidzActivities
Healthy Snow Men from RedTedArt
Christmas Treats for Preschoolers from RedTedArt
Cheeky Rudolph Cupcakes from Life at the Zoo (pictured)
Salted Caramel Chocolate Pudding from Hen Family
Kids Reindeer Cookies from Study at home mama
Reindeer Crackers from Bentolunch
Star Shaped Pizza from Montessori Nature
Healthy Gingerbread house from Edventures with Kids
Super food Chocolate Bark from My Fussy Eater (pictured)
Strawberry Santa from Kids Activity Blog (pictured)
Healthy Christmas Tree from Fantastic Fun Learning
Snowman Popcorn Cup What a great idea for a movie treat! from Creative Kids Snacks