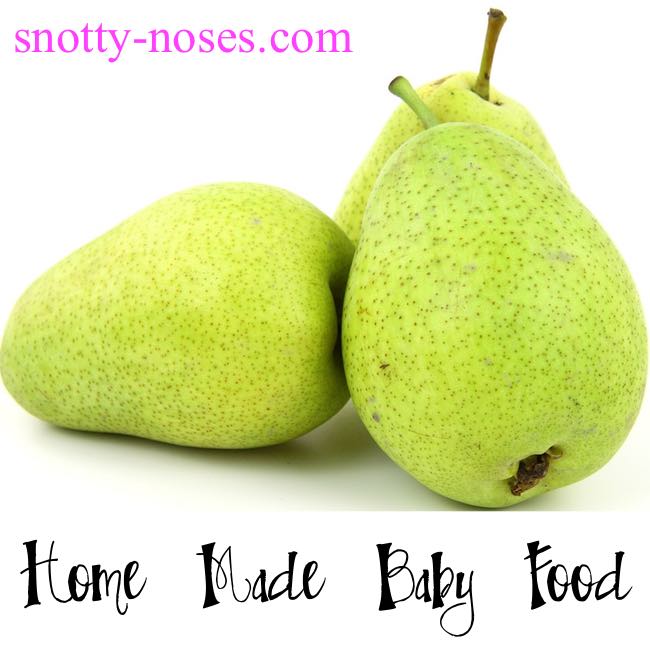 Home made baby food is a great way to save money and to introduce your baby to healthy meals from an early age.
Shop-bought baby food is expensive, and often contains added sugar and sometimes salt. Try giving your baby a taste of the good stuff by feeding them delicious, homemade meals.
Here are four recipes from Jess at Parent Guide. Whether you go the puree way or baby led weaning, these are great recipes (just don't whizz them up.) If you feed your baby puree, remember to start introducing them to small lumps at around 8 months so that they get used to them.
If you'd like more help with introducing your baby to solids, you can sign up for my free guide at the bottom of the page.
Vanilla-Baked Pears
This recipe is one that parents and babies both love Sweet, filling, and healthy, vanilla-baked pears make a perfect meal or snack for any age group. You can even spice them up a little with some cinnamon.
You will need:
• Four sweet, ripe pears,
• One vanilla bean pod of seeds,
• One pinch of cinnamon (optional),
• A blender or food processor.
First, preheat your oven to 350F. While it's heating up, cut the pears in half and remove the cores. Then, once the oven's heated, lay them face down on a baking dish, and pop them into the oven until the skin is golden, puckered, and tender. This should take around 25 minutes.
Leave the baked pears to cool for a bit before removing the skin – it should peel right off. Put the pears into your blender or food processor, and add the vanilla and cinnamon before hitting the puree button. Your vanilla-baked pears are then ready to serve! You can even make a little extra and keep it in the fridge for up to 3 days, or in the freezer for up to 3 months.
Delicious.
Oats, Spinach and Avocado
Oats, spinach, and avocado – can you think of a healthier bunch of ingredients to feed your baby? If you want fibre, protein, and a whole host of ultra-beneficial vitamins and minerals, this is the recipe for you.
You will need:
• One quarter cup of rolled oats,
• One quarter cup of organic spinach,
• One half cup of water, breast milk, or salt free stock ,
• One quarter of an avocado,
• A blender or food processor.
Start by heating up your oats and water/breast milk/stock in a small saucepan over a low to medium heat. Leave it for 10 minutes, stirring often to prevent burning. Once those ten minutes are up, drop in the spinach. Wait another 2 or 3 minutes, then place the whole lot into your blender and puree for around 3 seconds.
You can store your oat, spinach, and avocado puree in the fridge for 2 days (in an airtight container), or freeze for up to 2 months.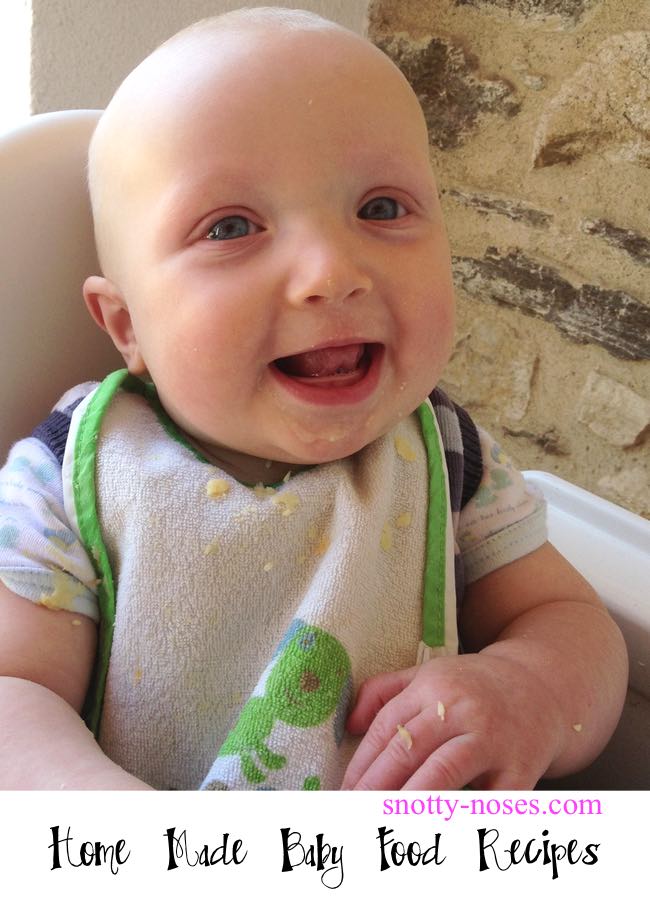 Pureed Chicken
Chicken puree is a delicious, wholesome and nutritious meal for your baby. Again, you can even add a dash of cinnamon to add some flavour.
You will need:
• One third of a cup of boneless chicken,
• Handful of chopped carrots,
• Pinch of cinnamon (optional),
• Blender or food processor.
Start by removing the skin and seeds from your apples, then cook them until soft. You'll also need to cook your chicken and the carrots if you're using them. When everything's cooked, put both the chicken and the apples into a blender or food processor. You can now add cinnamon (if that takes your fancy), or just choose to puree alone.
Freezing doesn't work quite so well with this recipe; your thawed chicken and apple puree might seem gritty and watery. Since meat is involved, you're probably better off using this quickly.
Roasted Fig Mash
Figs aren't the most common of baby foods, but they're full of fibre, and are a rich source of both minerals and antioxidant vitamins. When you're picking yours up, make sure they aren't either too firm or too squishy.
You will need:
• Eight figs,
• One teaspoon of olive oil.
First, remove the stems from your figs, and preheat your oven to 400F. Next, brush down each one with olive oil before placing in an oiled oven dish. Once your oven has heated up, bake the figs for around 20 minutes. When the skin is puckered and the fruit tender, it's time to take them out.
All you actually need to do is mash them down with a fork, since your figs will now be pretty soft. However, you can always whizz them through a food processor or blender in order to achieve the perfect puree. You can serve either warm or cold, and keep in the fridge for about three days. If you've made a large batch, you can freeze it for up to three months.
Introducing My Baby to Solids FREE Guide
Would you like to know more about starting your baby on solids? Just sign up for my FREE guide. It's all you need to know. Just follow the link, enter your email address and you'll be sent the free guide. (You can unsubscribe at any time.)