Easy Vegetable Pasta is one of my favourite healthy dinner recipes. It's my 'go to' recipe when I just don't know what to cook and I want something easy that I know everyone will like and eat without a fuss.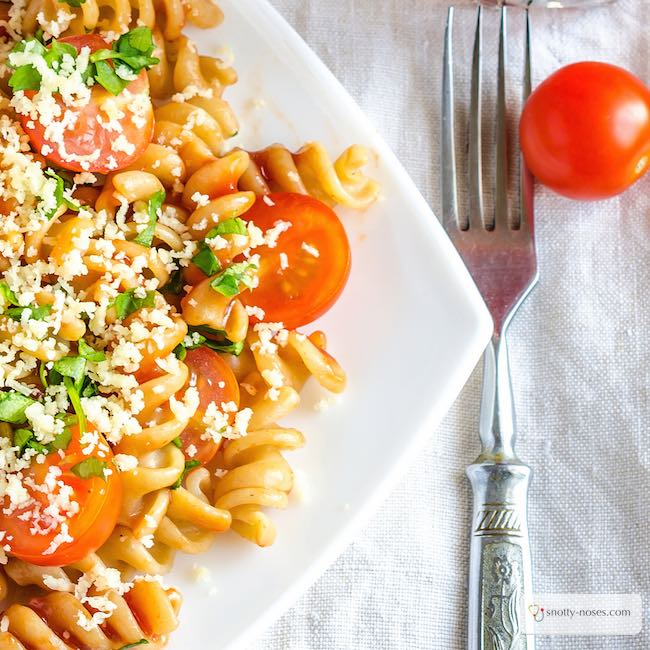 You can put pretty much whatever you like in easy vegetable pasta. Try to use lots of different fresh vegetables.
Add Some New Veggies
It's also a great way to introduce new vegetables to children, amongst all the vegetables that they like. Remember not to pressure them into eating things, if they don't like it, they are welcome to leave them. Remember those amazing words "you don't have to eat it".
Easy Vegetable Pasta Ingredients
A glug of olive oil
I onion, chopped
2 courgettes (zucchini) chopped
400g peppers (I use green Spanish peppers, but any type will do)
4 large carrots, peeled and chopped
2 jars or tins of tomatoes (800mls)
large handful of basil, chopped
500g pasta
1 head of broccoli
How to Make Easy Healthy Pasta
Cook the onions in the olive oil until soft.
Add the courgettes, peppers and carrots and allow them to sweat for 10 minutes.
Add the tomatoes and simmer for 20 minutes.
Cook the pasta and the broccoli.
Add the basil before serving.
You can make the sauce ahead of time and just re heat it. I often make it at lunch time so that it's ready for when we come home in the evening.
A Note on Salt
You can also add salt if you like. I prefer not to. Your taste buds adjust to the amount of salt that you use, if you don't eat much salt, you'll find that you don't need it. If you eat lots of packaged foods that contain salt, your taste buds will be used to the taste of salt.
Healthy Dinner Life Saver!
Easy healthy pasta is one of my life saving "recipes". (It varies so much it can hardly be called a recipe.) Even if my kids don't eat all of the veggies, I know that they have eaten some and that's better than none!