Sometimes we parents need to come up with a meal at short notice (I'm not so great at meal planning and always leave things to the last minute.) Left overs are a great idea but you just end up eating the same meal again. This is the most genius meal hack I've ever found.
I can get a warm lunch on the table in minutes.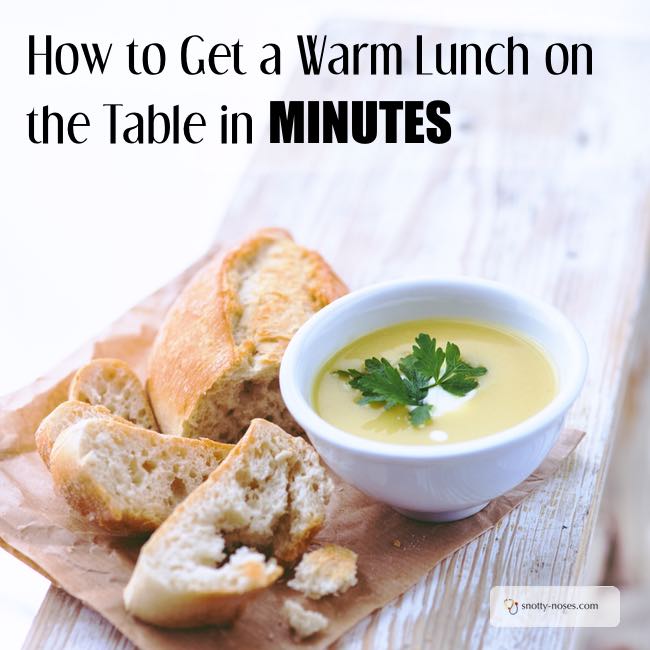 It's lunch time and I've just collected the kids from school. I know that I should have prepared something before I went to collect them but I was busy busy busy. I didn't even have time to peek in the fridge. Now I'm beginning to regret my lack of organisation as the four of them clamour around my legs.
I fling open the fridge door, hoping that by some miracle there is something resembling an easy lunch there. Last nights leftovers. A vegetable curry spurned by the children.
I chuck it in a saucepan for my husband and me and desperately wonder what I can give the kids. We had quick and easy baked beans yesterday.
"I want soup," says Dante, "spicy tomato soup!"
Hmm I think, soup is a good idea.
I add a couple of ladel-fulls of homemade stock and a pot of yoghurt to the vegetable curry that no one liked.
I whizz it all up.
I serve it with a swirl of yoghurt on top and some crusty toast. (The bread was too stale to serve without toasting.)
An amazing hearty soup that you could serve for lunch or dinner.
But the beauty of it is, that you can use pretty much any leftovers that you have and suddenly you a totally different, yummy (as long as the original wasn't a disaster) meal that you can make in 5 minutes.
Perfect.
What leftovers can you use to make hearty soup?
Pretty much any. Sometimes I separate sauce from carbohydrate (rice, pasta, noodles etc) and just use the sauce. Other times I just put it all in together and whizz it up.
Just a safety note. Make sure your leftovers have been stored correctly in a fridge and aren't too old. Cooked rice shouldn't be eaten if it is more than 24 hours old. It needs to be in a fridge for that time. If it's older, I just throw it away as it can develop harmful bacteria that can make you unwell. (I always store the rice separately from the sauce for that reason.)
How to Make a Hearty Soup out of Leftovers
Heat up left overs.
Add some liquid, either water or stock. I use homemade stock but a low salt powder, cube or liquid would be fine.
Add something You might want to make it creamy. It depends on what kind of leftovers you have, but most things are fine "creamy" in soup form. You can add yoghurt (I use full fat greek yoghurt), milk, cream.
You might prefer to add a different flavour such as cheese or herbs, a spoonful of pesto or an ice cube of parsley. It depends on what you have to hand.
Serve and be amazed.
I serve the delicious soup made out of curry that no one wanted to eat and you know what?
Clean plates.
All around.
Even Sebastian, one of our three year old twins who likes to eat "in his own time" (read scream in protest whilst we eat our meal and then decide that he's actually going to eat it)…even Sebastian sat down and dunked his toast in his soup without ANY fuss.
And he ate it all.