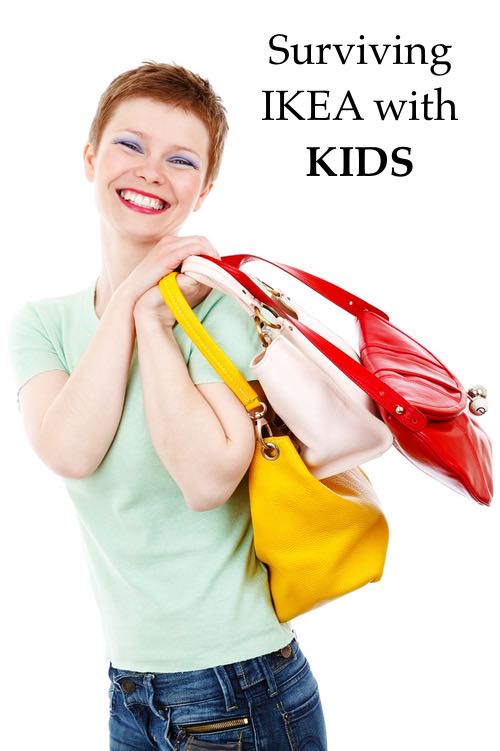 We all love Ikea don't we? Seriously, who doesn't? Whatever style you want from bright and cheerful to tasteful tones, Ikea has what you're looking for at great prices. Storage solutions? If you're a parent of children who have far too many toys, you're always looking for ways to keep the house tidy. Plus they do their bit for sustainability. Win win if you ask me.
The only problem? Having to go to Ikea. As much as you may love it, it's really hard work. It's so so so "gia-normous" that even the most shopaholic amongst us are going to need half time oranges to survive the day.
Seriously, it's taken me two years to go back since the day that Ikea nearly broke me!
Here's my 'Ikea Survival Guide' for parents to help you avoid 'Ikea fatigue'!
1. Think about ordering on line. You can buy many of their products in most countries. (That means not ALL products and not ALL countries.) Obviously you have to pay for delivery which depends how far you live from the store.
If you are going to brave Ikea
Plan what you're going to buy on line. I know it takes ages but at least you're in the comfort of your own home. You can think about how much you want to spend and export the list in order of how the items appear in the warehouse. If you know what you want, you can skip the whole display floor (which takes at least an hour to walk around).
Don't go on a bank holiday. Think 'sea of people' on a bank holiday. In fact, if you can, pick a day when you know it'll be empty. How about some great sporting event that you're happy to forgo for your love of pine furniture?
Check your route. You'd think all Ikeas were well sign posted. Not the case as I discovered as I drove past the exit in Barcelona. (Perhaps it's just Spain!)
Save your toll ticket and they'll refund you when you pay.
Take advantage of the free coffee. Those folks at Ikea are generous and smart. They know that if you can survive the day without collapsing you'll end up spending more. They prefer a coffee bill to a medical bill.
Use the free Kiddi Care called Smaland. Your kids have to be potty trained and between 37 to 54 inches (94 to 137cms). They can stay for an hour, giving you time to get all the difficult bits done.
Picking Service. If you're getting lots of heavy furniture from the warehouse, it might be an idea to invest in the picking service. You give your list to an employee and they go around and gather up all the heavy boxes. You still have to take them to the check out.
Payment. Make sure you have available funds. (Don't be done by your unknown debit limit! Second time round, I took cash.) Remember to give your toll receipt if you have one.
Delivery. If you want them to deliver, you then have to take all the items to the transport section and pay for delivery.
Pack car. Time for another free coffee??
Congratulations! You have survived your day at Ikea. Drive home safely and enjoy the next 3 days of putting together flat pack furniture and rearranging your home. (They do do a home assembly service as well.)
Now all those toys can go in a tidy box. Well at least for the next two weeks!