Who doesn't struggle to get their kids to eat a healthy diet? Getting your kids to eat fruit and vegetables can become such a battle ground, such a power struggle. When that happens, parents get cross, children get upset and suddenly you realise that you have "feeding issues". A better way is to step back and make it fun, make eating fruit and vegetables fun and enjoyable.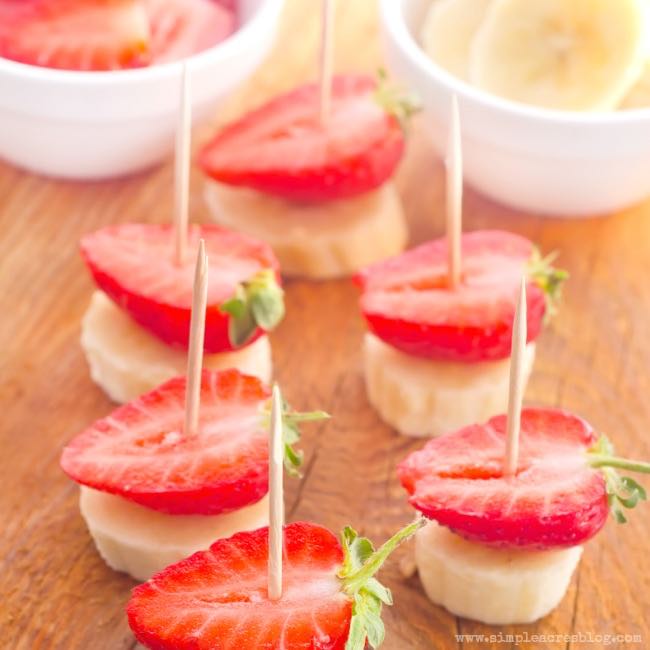 Stefanie, a Registered Dietitian and mother of three young children is here to share her expertise on making fruit and vegetables fun for your kids.
First, I would like to say...MOMMA YOU ARE A GOOD MOM! You need to hear this and understand that whether your kids fight you or not on their food choices what makes for good mothering is LOVE and the EFFORT you put in to always try your best by your kids.
1. Offer Your Kids Lots of Healthy Fruit and Vegetables
Let me take the heavy load of what your children choose to eat off of your weary shoulders and look at what is YOUR responsibility when it comes to nutrition.
It is your job as parents to OFFER healthy wholesome food.
It is also your job to MODEL healthy eating behaviours.
A parent's value in a healthy lifestyle will reflect in our behaviours naturally from the types of foods we eat to our ability to BALANCE "treat" foods into our diet. This is truly the most powerful tool to demonstrate how enjoyable and possible a healthy diet can be.
It is your child's job to make THEIR CHOICE from the healthy options you offer.
It can be really difficult to trust your children to eat and to make the "right" choices. But if you offer them healthy food (and don't get pushed into allowing them free access to the cookie jar) they only have healthy food to choose from.
2. Do Not Stress about Healthy Eating
Here's a scene. You offer your kids some new food. You want them to try it. Your children sense your stress. They wonder what the big deal is. They are not receptive. You encourage a little too much. They "push back". You get more frustrated. See where this is going?
Be lighthearted and encouraging while showing your enjoyment for the food that you are eating. Don't over do it. Be natural.
Don't let them know that you secretly really really want them to try the new food.
Think "poker face".
3. Be Patient about Introducing Your Kids to New Foods
Normally, it takes several, MAY I REPEAT SEVERAL attempts of food introduction before a child will try new things.
Lower your expectations. They are not likely to try it first time. Or second.
4. Make Healthy Food Fun.
Make eating fruits and vegetables a game. I have created a chart in my home. My children earn points for doing positive things such as responsibilities, kind behaviour and healthy eating. When they choose to earn their points, I reward them with quality one-on-one time.
This has been such a hit in my home. My kids are now striving to do the very things we used to battle over.
5. Don't Use Food as A Reward.
Do not reward your kids with food. As a dietician, I cannot stress this enough. Keep food's main purpose as fuel for their bodies.
Using food as a reward can lead to an unhealthy relationship with food later in life, such as "emotional eating".
Simply let healthy food choices come with time.
6. Involve Your Kids
Cooking and choosing food gives kids a sense of ownership and pride. It makes the eating bit more fun. (Although just because they have cooked it, doesn't mean they will always eat it.)
If your child is too young to help, offer them their own bowl, mixing spoon and dry ingredients to stir around. They will feel a part of it all just the same.
7. Playing with Food Can be Good
Let your kids eat, handle and "play" with food or pretend food away from the dinner table.
I often have tea parties or play "diner" or "grocery store" with healthy new foods and snacks. It exposes children to new foods in a low pressure environment. Before you know it their playing WILL become eating.
8. Give Your Kids Control
Eating can become a power struggle because it is one of the first things your little ones can control. By offering healthy options and allowing them to choose. They will feel in control and independent.
9. Make Healthy Food Fun
Use your imagination to make everyday fruits and vegetables into fun animals and happy faces. I kid you not, I simply drew fun character faces on banana peels awhile ago and then my kids wanted to eat them ALL...and they did!
Establishing healthy eating habits in your children is a marathon, not a sprint. Remember to be lighthearted and relaxed about your child's eating. Making fruit and vegetables fun for kids to eat is possible just by putting the FUN first! Healthy choices will come with time, patience and continual love.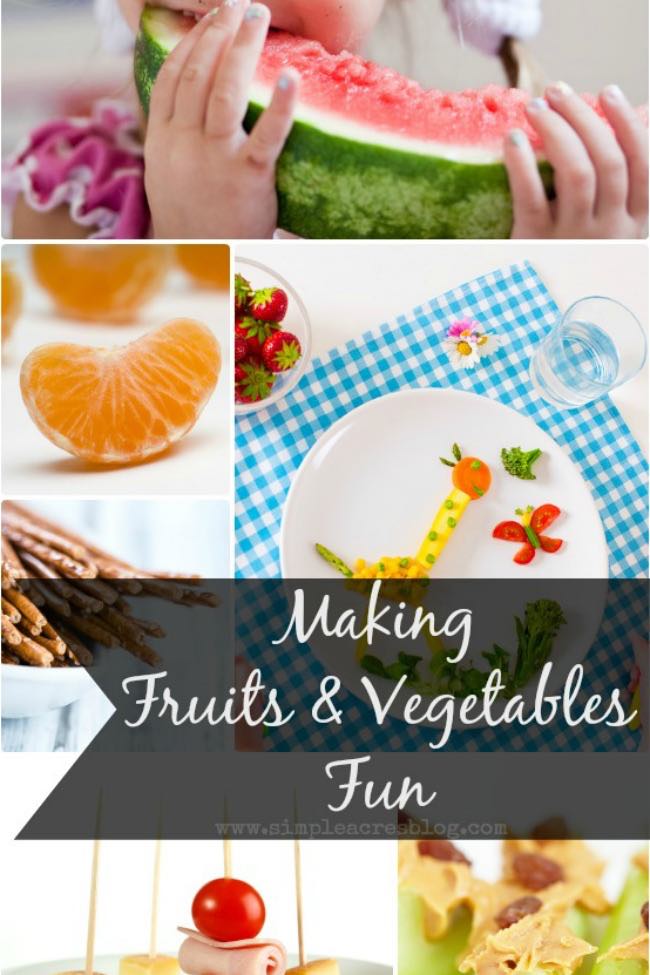 Stefanie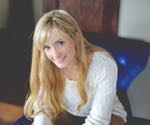 Hi there! My name is Stefanie and I am thrilled to be here from Simple Acres. If you would like more ideas on health, yummy recipes, parenting or creativity I would love for you to visit me and my family at Simple Acres where we focus on family and simplicity as a means for true joy and success in life. We are a cattle raising family of 5 set on 10 acres of farm and tumble weeds! Kick your feet back and enjoy the simple life with us!
Dovidenia. XO