I scan the kitchen. There are blobs of sticky goo on every surface, on the table, the floor, my hands, the children. I can't touch anything; I'm too sticky. We're only half way through and the kids are loosing interest. I'm loosing interest. My first attempt at cooking with children was a disaster. I have since learnt to keep things simple and look for easy recipes. These oatmeal raisin cookies are perfect to cook with or kids. Or without kids. Be warned, they won't last long.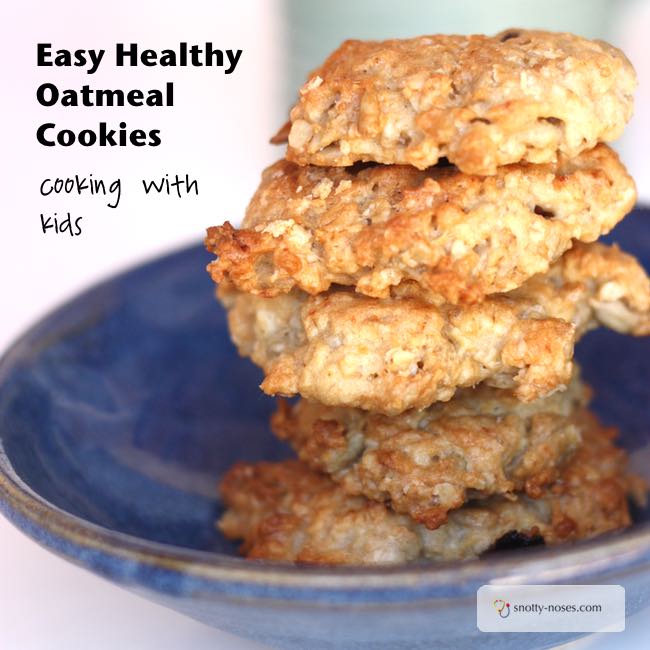 This is a recipe that I've made a few times with the children. It's quick and easy and not too sticky. You can use whatever you like to go in the cookies. Raisins, apricots, other dried fruit, nuts or sunflower seeds are all great options.
We made these lovely oatmeal cookies for the children's teachers to say thank you at the end of the year. They were a great hit. We made little round balls and put them in a jar with a ribbon around them. What a lovely homemade gift.
I have used the word "healthy" in the title. OK, they aren't as healthy as a carrot but I have reduced the sugar content. They are healthy compared to a standard shop bought packet of biscuits.
Ingredients for Raisin Oatmeal Cookies.
1/2 cup /150g butter
2 cups / 220g flour
2 cups / 220g oats
1/2 cup / 100g sugar
2 desert spoons of golden syrup
1 tsp baking powder
1/2 cup / 50g raisins
1/2 cup / 50g sunflower seed
How to Make Raisin Oatmeal Cookies
Melt the butter, syrup and sugar in a saucepan on low.
Sift the flour into a large bowl.
Add everything to the large bowl including the contents of the saucepan.
Mix well. If it seems too dry, add a few drops of water.
Using a teaspoon, place little blobs of dough onto a baking tray. I use a silicon baking mat so that I don't have to grease it. You can make the blogs larger or smaller depending on what you prefer. You can have little balls, or flatten them to make cookies.
Bake at 325°F or 170°C for 15 minutes.
Such a simple recipe but perhaps double the quantities if you want to make them as a gift, otherwise there may not be any left!