Spanish Chorizo Soup is a family favourite. It has a lovely warm, Mediterranean spicy flavour thanks to the paprika in the chorizo. It's really easy to cook and all the kids love it. A perfect healthy dinner recipe.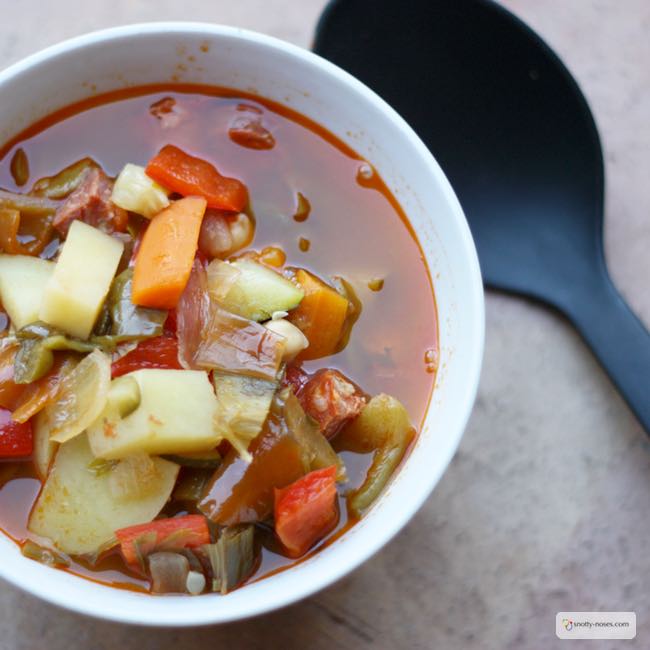 You can cook it in advance and just warm it up with you're ready. Perfect for a busy school day.
Healthy Chorizo Soup.
Did I mention it was healthy? The chorizo is only for flavour, so I only use a little bit and the rest is just vegetables, vegetables, vegetables.
It's really versatile. You can put in pretty much whatever you like. I just use what I have in the fridge. But I wrote it down last night to give you something to go on.
Different Types of Chorizo
Here in Spain there are different types of chorizo. You can buy it cooked or raw. Spanish people use the raw chorizo sausage for cooking with and the cooked one for just eating. In other parts of the world, it's difficult to buy raw chorizo. You can use cooked, just don't over cook it. Or you could use raw sausage and add some paprika if you prefer.
I use half a cooked chorizo and put the rest in the freezer for another day.
Vegetarain Spanish Soup
This soup works really well without any chorizo. Make sure you have a good home made stock and add a bit of paprika when you're frying the onion.
Ingredients for Chorizo Soup
In this version I used 1 litre of juice from some tomatoes that I was jarring, but stock and a jar of tomatoes will work just as well.
1 onion
1 cup (125g) chopped chorizo
1 courgette (zuchinni)
1 red pepper
1 leek
4 spanish green peppers (or 1 normal green pepper)
4 carrots
4 potatoes
1 jar or tin of cooked chick peas (garbanzo beans)
4 cups (1 l) of good stock (I either use home made stock or a low salt good quality stock.
1 jar or tin of cooked tomatoes
Make sure you use a large sauce pan.
How to Make Chorizo Soup
Fry the onion and leek in a little olive oil, until soft.
Add the courgette and peppers.
Add the chorizo.
Add the remaining ingredients (carrots, potatoes and liquid).
Simmer for half an hour.
Add the cooked chick peas before serving (don't worry if you added them earlier, it doesn't matter.)
The best things about Spanish chorizo stew are that it's so forgiving in terms of "just chuck anything in" AND my kids love it. I know that when I make Spanish chorizo stew they'll eat a really healthy dinner. And ask for more.