Who said that strawberry frozen yogurt was unhealthy? This is a really easy and really healthy recipe for frozen yogurt that your kids and friends will love. Just 2 ingredients, no added sugar and ready in minutes. I'm happy for my kids to eat this every day!
A little tongue pokes out and carefully licks the sweet melting ice cream as it trickles down his hand. A big smile spreads across his cheeky face. There is something about ice cream. Something, enticing, delicious, magical. My children could eat ice cream all day, every day. Which since, I've discovered this amazing recipe for healthy frozen yoghurt (which counts as ice cream in their books) is fine by me.
Another win for the healthy snack brigade!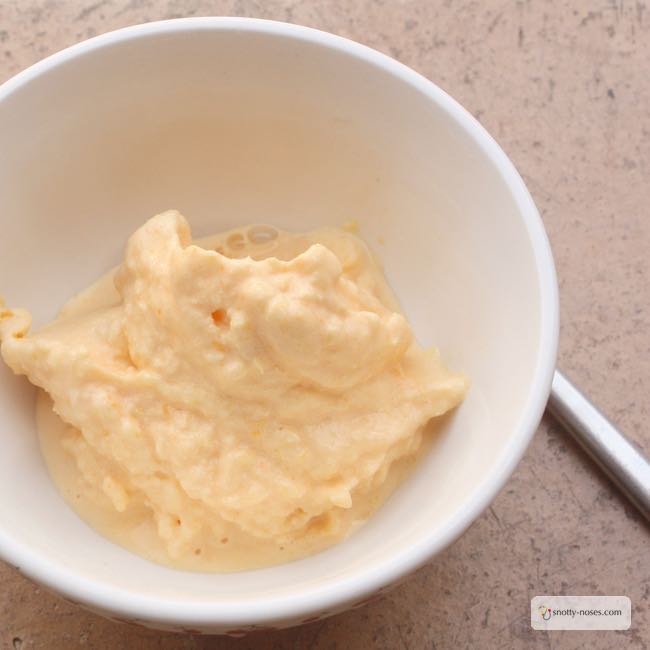 This post contains affiliate links.
I was flicking through the pages of amazon when an ice cream maker popped into my feed. "I want it, I want it, I want it!" I thought. I'm always looking for ways to find healthy snacks for the kids. You just put in frozen fruit and yoghurt and out it pops your frozen yoghurt it promised.
Amazing! I thought and not too expensive. I was on the verge of clicking "buy" when a thought popped into my mind. What exactly does the frozen yoghurt machine do that my magi mix doesn't? (Squirts it out of a little tube in a fun-kids-will-love-that-kinda-way.)
Surely they just whizz it around a bit.
Surely my very expensive magi mix that I love will do the same as the frozen yoghurt maker? Except squirt it out in a fun-kids-will-love-that-kinda-way.
Surely I can save myself 40 whole dollars (and find something else to spend it on) if I just use the magi mix that I already have?
We gave it a try.
And now we're addicted.
It is SO super easy and the kids absolutely love it. They can have "proper ice cream" every single day as far as I'm concerned.
I have spent the last 2 summers trying to concoct the perfect ice cream with my ice cream maker. I've had some successes. And about a billion rock solid ghastly failures. (I have to confess that there are still a couple lurking in the depths of the freezer.) But NONE of them has been as easy as this amazing way of making frozen yogurt.
Just 2 ingredients. That's it. Nothing more.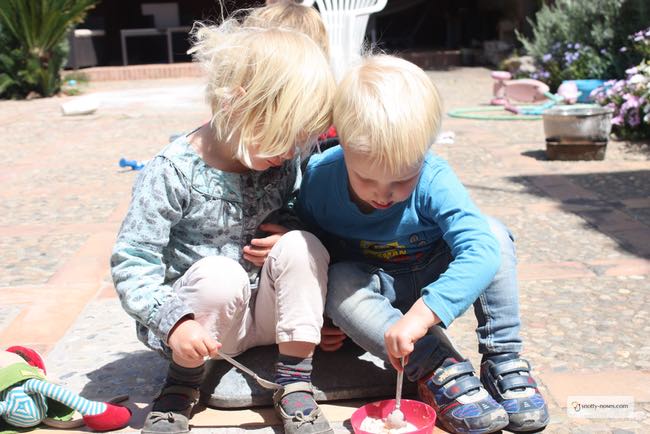 I'm sure you can guess the ingredients. Fruit (which you have to freeze) and yoghurt (which you don't freeze).
So here's what you do. You freeze the fruit over night first. We have tried strawberries, apples, manderines, nectarines and oranges so far. They have all been amazing. My favourite was the manderine with apples a close second. The strawberry definitely wins the prize for amazing colour.
How to Make Healthy Frozen Yoghurt
Freeze your fruit in little chunks. We cut up 2 or 3 handfuls and freeze them in a little bag or container.
Next day, take out whichever fruit you want and let it defrost for 10-15 minutes so that you don't destroy your ice cream maker/magi mix/ any old brand food blender.
Pop it in your food processor, add 2 pots of yoghurt and whizz. I use full fat greek yoghurt with no added sugar. Each pot is 125 mls.
2 pots plus the fruit makes a great portion for 6 people. Full fat is great as eating a little fat helps you to feel full up for longer. If I eat low fat, I just feel hungry after 10 minutes again.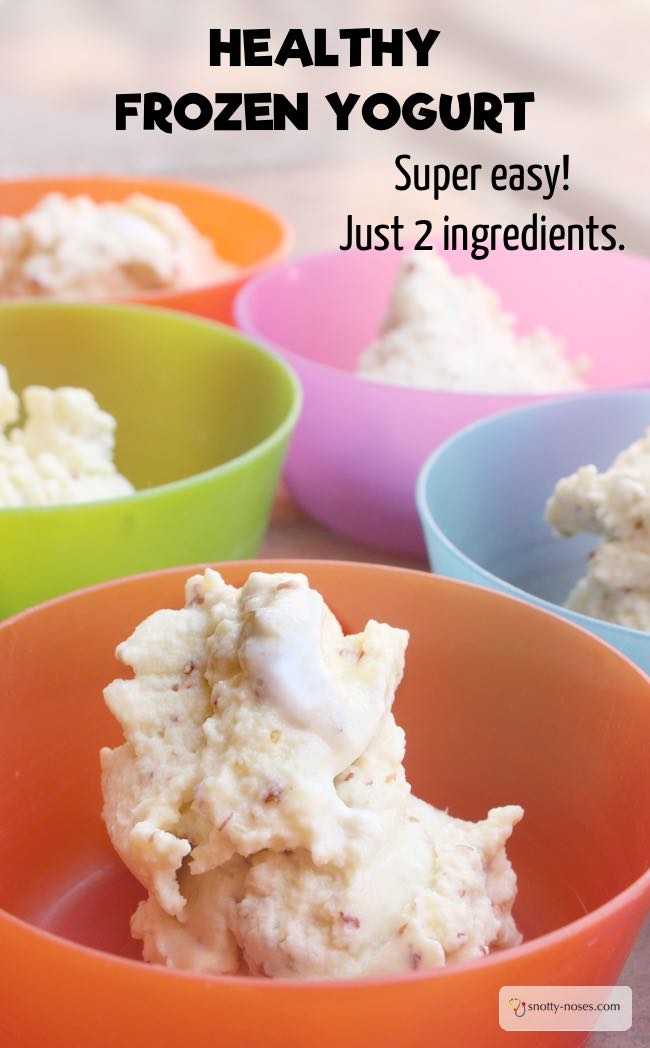 You Don't Need to Add Sugar
The consistency is perfect. Light and soft. Just like proper frozen yoghurt. The best bit is that if you use sweet fruit, you don't need to add sugar. When you make ice cream, you often find that you need to add sugar as it's difficult to taste at low temperatures but as this is melting, you can taste the true flavours of the fruit.
If you want to add a bit of extra sweetness, try adding some dried fruit. I used dates in one. I just added stoned (not frozen) dates.
It was delicious. Amazing. Fantastic.
I can't believe that it has taken me so long to find such a simple recipe.
By the way, if you have neither a magi mix or a frozen yoghurt maker that squirts out the frozen yoghurt in a fun-kids-will-love-that-kinda-way and IF you can live without the squirting- out-in-a-fun-kids-will-love-that-kinda-way…I recommend going for a simple food processor. I haven't tried this one but it has good reviews. I suspect it isn't as strong as the magi mix, and doesn't have so many features, but it's a fraction of the price.
I place the frozen yoghurt on the table. There are 4 little yelps of "hooray" and 4 little spoons clutched in sticky fingers. Then silence falls as they devour their healthy delicious frozen yoghurt. Sticky tongues licking out sticky bowls as they lap up every tiny ounce of magical frozen yoghurt.

SaveSave