Gaspacho, gazpacho or "gazpacho andaluz" as it's called here in Spain is a cold tomato soup. You may sound dubious but I assure you that it is super easy to make and it's really cool and refreshing in the hot summer. I make this about once a week at the moment. I whizz everything up, put it in the fridge overnight and then I have a really quick and healthy lunch idea.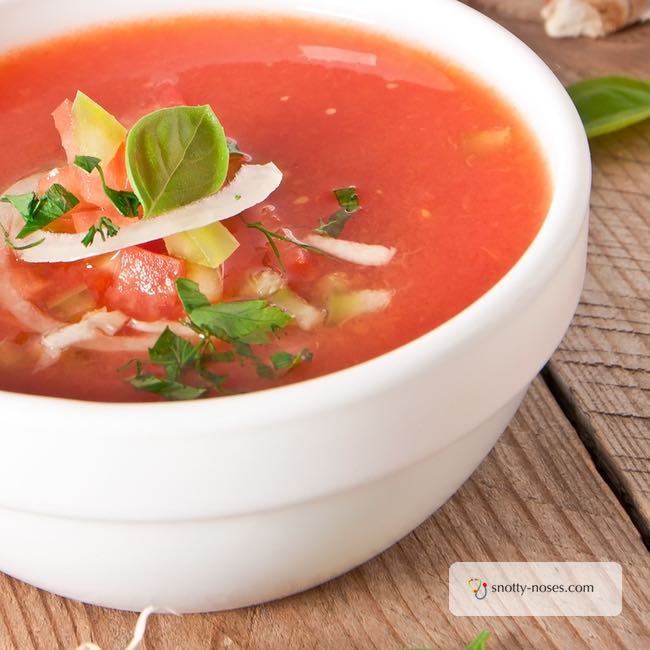 Serve Small Amounts to the Children
The children are a bit reluctant to try it but as always, I serve them a small portion and allow them to leave it.
When I say "small", I mean teeny tiny. I use a cute capachino cup and they love it.
Gaspacho Recipes
Traditionally gaspacho has raw onion and garlic. I'm not keen on the taste that it leaves in your mouth so I only use a very small amount. Feel free to add more.
There are so many different versions of gaspacho. Some have bread in them, others don't. I sometimes do, I sometimes don't!
What to Serve with Gaspacho
Normally gaspacho is served with fried croutons and chopped up bits of cucumber. I am too lazy to do such things and just serve it as it is.
Ingredients for Gaspacho
600g (20 ounces) tomatoes
300g (10 ounces) cucumber, peeled
100g (3 ounces) green pepper, middle taken out
1 clove of garlic
1 slice of onion
4 table spoons of olive oil
1 handful of basil
1 1/2 table spoons of red wine vinegar
300 mls vegetable stock (or water)
100g bread (optional)
How to Make Gaspacho
Throw it all into the whizzer
Press go
Store in fridge overnight
Did I mention that I'm the laziest cook in town? If you want to you can peel and deseed the tomatoes. I take out the woody bit if they are large tomatoes. If they are small I don't bother. I do allow the whizzer to do it's thing for a few minutes to make sure everything is as small as it can get. (I only take the skin off the cucumber as we have the Lebanese type and it's quite bitter.)
I don't worry too much about quantities either! (But I measured exactly what I did yesterday so you could copy it.)
My lazy way seems to work fine. A really easy soup that takes 5 minutes to prepare and it's cool and refreshing.