Feeding your children a healthy diet can feel like an uphill struggle. Children clamour for sweets and treats and point blank refuse to even try a bite of broccoli. But you know what? Kids are kids and that's perfectly normal.  Us adults need to do make sure that we are presenting our children with healthy food options and eventually they will learn to love and eat healthy food. But wait a minute! What exactly is a healthy diet for kids?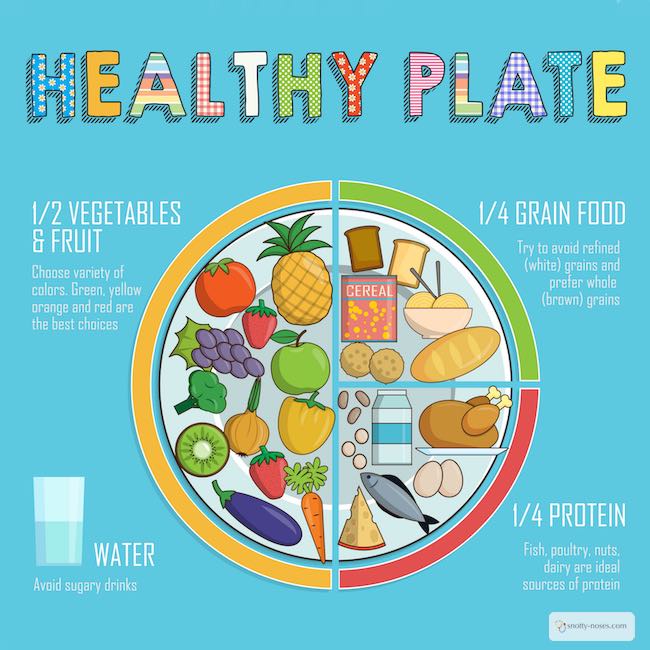 In order to get your children to eat clean healthy food, you need to know what a healthy diet is and give your children a chance to eat it.
I know! It sounds obvious, but let's go back and have a look at the basics.
What Should Children Eat?
It's easier to think of what children should in terms of proportions rather than actual amounts. 
Roughly half of what you eat should be fruit and vegetables.
Vegetables, just over a quarter.
Fruit, just under a quarter.
Cereals (pasta, bread, rice) just over a quarter.
Protein (meat, fish, some vegetables such as garbanzos or chick peas)
Dairy should make up a little extra portion. It's an addition rather than part of what you actually need.  Here's what you need to know about how much milk your kids should be drinking.
Drink Water
When you are thirsty, water is the best drink to keep you hydrated. Water is THE most healthy drink you can give your kids. Even fruit juice that is generally considered healthy, is really full of sugar. It's fine to have other drinks from time to time but these should be considered treats rather than your thirst quencher.
If your kids aren't keen on water, you can just stop offering all the other sweet drinks that they have. They will complain for a bit, but when they're thirsty they will drink water. Here are some extra tips to make drinking water more fun.
Treats and Sweets.
Things like extra sugar and fat come under the umbrella of "empty calories". They sound like you should eat lots but what it actually means is that they are only giving you calories and no other nutrients. It's fine to eat them in moderation, but they should NOT form part of your core diet. They should be treats rather than snack.
Guess where you find these empty calories? There are lots of them in added sugar. Sugars that occur naturally in fruit and vegetables are considered part of that food. They are wrapped up in good nutrients and fibre.
The problem is that sugar is added in vast and unnecessary quantities to many packaged foods. Packet foods are our sugar nemesis. They are where our kids get all that extra sugar. One bite of your average shop bought cake is laden with sugar and very little in the way of good nutrients. Whereas a bite of fresh fruit contains less sugar and many more healthy nutrients.
It's fine to let kids have treats. But as treats. That means occasionally not just as a snack.
Packet foods aren't just bad because they have added sugar. There are lots of reasons to reduce the amount of packet food you offer your kids.
And don't worry, there are lots of healthy and easy snacks to take their place.
Most Kids Don't Eat Enough Veggies
If your child doesn't eat so many vegetables, don't worry, they are not alone. In fact, most adults don't eat enough fruit and vegetables and they don't even realise.
The point is, you want to train them to like the healthy stuff, to eat it as part of their every day diet. You want them to get into the habit of eating fruit and vegetables.
How Do I Get My Kids to Eat Veggies?
If you keep presenting your children with a healthy diet, without pressurising them to eat, they will learn to eat fruit and vegetables. They may still like cake and sweets, but they will also eat fruit and vegetables.
It may take time, but that's OK. You just need to stick at it, be patient and not pressure them to eat.
In time, you will have children who will be in the habit of eating a healthy diet. They won't even think of it as healthy eating. They're just eating things that they like that happen to be healthy. Isn't that neat?
My Kids Prefer Fruit to Veggies
Many children do prefer fruit to vegetables because it is naturally sweeter. We can't change the fact that our kids are kids.
I think it's better for kids to eat lots of fruit and less vegetables than to eat packet food instead. Over time, they will probably learn to like vegetables as well. Think of teaching your kids to love healthy food as a life long skill. It takes time but it's worth the effort. One day they will even like broccoli.
Healthy Eating for Picky Toddlers. A Pediatrician's Guide to Happy Meal Times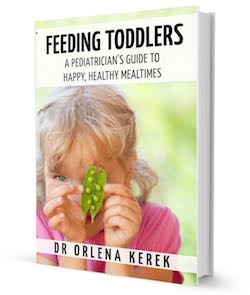 Exciting news! My new book is due to be released at the end of August 2016. If you'd like to know when it launches so you can grab your free launch copy, sign up to receive notifications. If you're already on my list, just follow the link and enter your email, so that I know you're interested.
Free Healthy Eating for Children Video Course

If you'd like to know more about how to help your children eat a healthy diet, you can sign up for my free video course. It's a series of really short videos that are sent to you over a few days. Little bite size tips that you can start to implement straight away. You need to put your email in to sign up, and after the course, I'll continue to keep in touch with my weekly newsletter. You can unsubscribe whenever you like.