I am really excited to share this interview with Becky Mansfield from YourModernFamily. Like our family, Becky's has four children. Her blog shares loads of great parenting tips, recipes and awesome ways to keep your house tidy. (She's blown my excuse of having too many children for a tidy house!)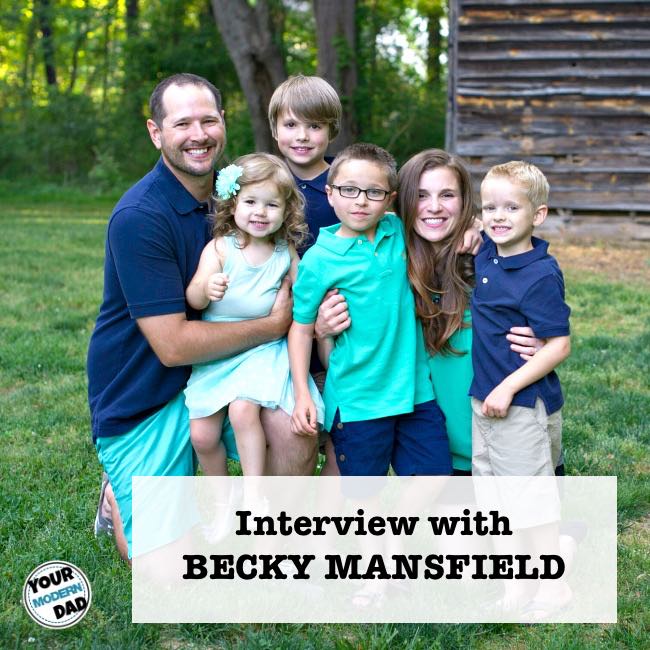 Today she tells us all about how much she loves parenting and how she juggles four children and running her own business. She makes it all sound so easy!
Please can you start by telling us a little about your family, what you do and how old your children are. 
My husband and I are full-time bloggers, working from home.  Previously, I was an elementary teacher and he was a finance manager.   We have four kids, ages 9, 7, 5 and 3 and we love being parents.  I have wanted to be a mom for as long as I can remember! 
Why did you stop teaching to start your blog?
I actually stopped teaching when our son was born, but started doing play therapy (part-time) and I limited my time on that even more, when my blog started taking more time and was paying more per hour than that job.  
How has being a mother changed you?

I can't even think of how it has NOT changed me. It is all that I know now and I wouldn't have it any other way!   I love being with our kids- they make me laugh and smile constantly!   They make me think outside of the box every day! 
What I really love about your blog is the way your love for your children shines through, how do you manage with so many children? Are you a really strict mother?

haha!  I wouldn't call myself strict, but I would say that we have rules that are to be followed and if they don't follow them, they know the consequences.   I don't find the need to yell much, because our kids just know that if they don't do X, they don't get to do Y, so I don't need to yell- the consequences stand alone.   I think that I manage it all pretty well because I know that I can only do what I can do, so when you set rules in place from the get-go, they are not tested (much) and you can expect your children to follow along with the expectations that you set. 
Do you ever have difficult moments? If so, how do you handle them and what do you do?

Of course!  Well- I usually grab a diet coke (haha!) and then I will ask our kids to go to their room for a few minutes, so that I will not lose my patience with them.  When I have figured it out, I will ask them to come out and talk to me.  I find that talking to them, one on one, will get us further than anything else.  It then boils down to respect. 
What has been the most challenge time for you as a parent?

The 4 year old age - with every child.  This age is when our kids try to test the waters and it has been hard with each child.   Three done with it, one to go.  
Do you manage to spend a little one on one time with all of your children everyday? If so, what
do you do?

Yes, my favorite time of the day is our one on one time.  I take moments for this all day long, but my favorite part is at the end of the day.  I lie down with each of the kids for about 5-15 minutes and we just talk about whatever we want.
We also do our monthly one-on-one dates, that I write about on my blog.  The kids love it! 
What is the naughtiest or funniest thing one of your kids have done?

Our oldest son was four when he saw a bunny at a pet store, and he leaned down and whispered to it... "Thank you for my bike, Easter Rabbit."  It was just my favorite thing- I think it really reminded us that kids are really just so sweet! 
What is your driving force? The thing that makes you tick (other than your family)?
This is hard to say, because I feel like I do what I do for my family. I also want to be 100% debt-free. We have gotten there in every avenue except for our mortgage and that is what we are working on now.   
Does your family have any special traditions that are unique to your family?

We do our monthly one-on-one dates that I mentioned- that is one thing that our family just loves.  It happens for each child on the "date" that they were born, so maybe it is the 7th of every month if that child was born on the 7th.  We also do some fun things like when we clean, we do "assembly line" because the kids work together and say that things go so much faster. 
From your blog I always get the impression that your house is really tidy. Please tell me that this isn't so!
Haha!  Yes, I do.  It is really important to me that our house is clean and that the kids help.   I make my bed and clean our bathroom every morning.  I start a load of laundry.   We don't leave the house with it messy, because I don't like to come home to a mess.   We clean up before bed, too.   The kids help out, so that is helpful.   
What is your favourite family movie?
Dolphin Tale 
Favourite family meal?
Salsa chicken in the crockpot.  I think I call it fiesta chicken on my blog.  We buy chips from a restaurant and use them to scoop the dinner.  It is so good! 
Favourite family together time.
Bike-riding, for sure!  We all love to do this. 
One thing you could change in the world. 
Children living in poverty or in neglected households, where their parents aren't paying attention to them.  This just breaks my heart so much- more than I can even say.   I would love to be able to stop this.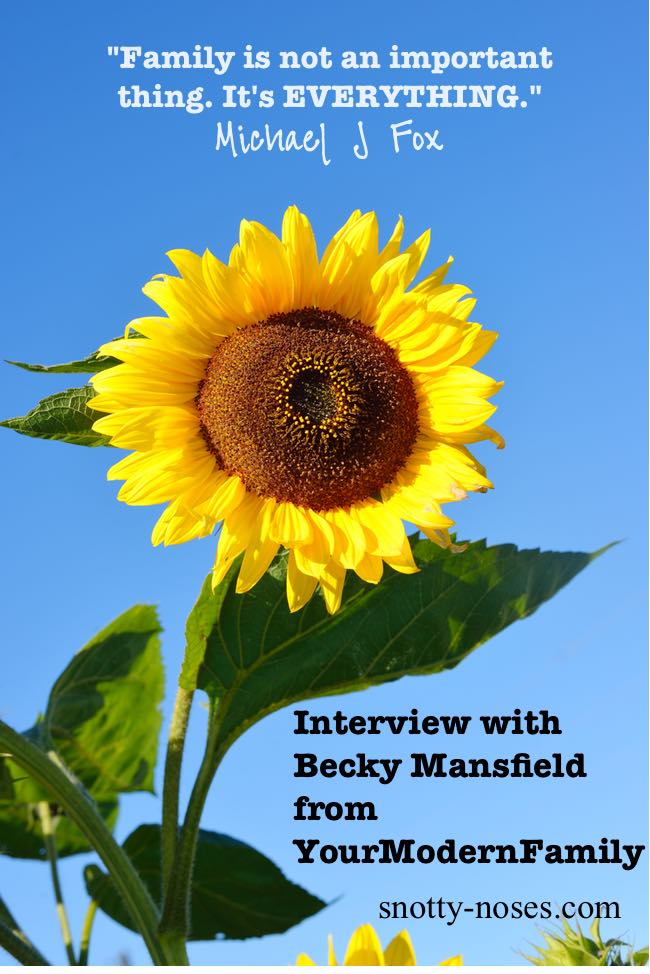 Thank you so much Becky. You are an inspiration to parents.
You can read more about Becky and her family at YourModernFamily and her husband's blog YourModernDad.