If you're looking for a tasty, easy and healthy dinner recipe, you've just got to try risotto. Its creamy, silky delicious-ness gets wolfed down by my kids. (Unless of course I put mushrooms in it but that's another story!)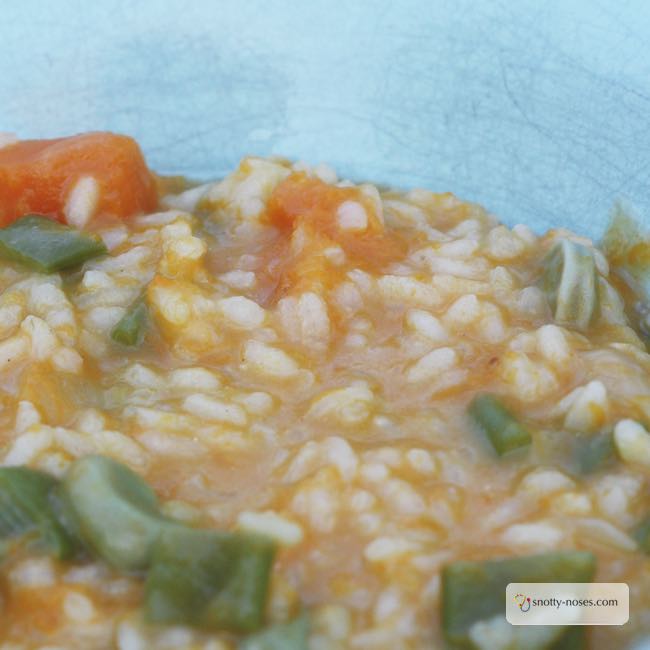 Just Add Veggies
One of the things that I love about risotto is that it's so healthy and versatile. You can put anything you like in it really, by which of course, I mean lots of healthy vegetables.
It may be easy, but it isn't exactly super-quick. You need to be in the kitchen for at least half an hour, stirring the risotto all the time. Once you get the hang of it, you can do other things as well, the washing up, the tiding, whatever you like. You can't rush a good risotto.
The Secret to a Good Risotto
The secret to a good risotto is a good stock. I recommend that you make your own. Chicken stock is my stock of choice for risotto. A good vegetable stock is my second choice. If I'm desperate, I'll use stock powder that I buy from the farmer's shop (they make it and it doesn't have any added salt.)
If you want to use shop bought stock, have a look at the ingredients and see what they put in it. Is it mostly salt? I try to avoid high salt products and here's why
You'll also need a short grain rice such as arborio, carnaroli or vianole nano. (There are plenty of different types, I just use a standard short grain and it works out fine.)
Toddler Eating Troubles?
If you have a toddler who won't eat, try them with risotto. It's a Universal comfort food! Once it's on the "accepted list" you can start to add different ingredients. Don't worry if they pick them out. Just remember not to pressure them to eat.
Risotto Ingredients (the Basics)
An onion, chopped
1 litre of stock
2 cups (400g) risotto rice
1 cup dry white wine
1/2 cup parmesan cheese (I use pre grated cheese if I don't have any awesome proper parmesan)
1/2 cup cooking bacon or lardons, chopped
Blob of butter
Other Great Things to Put in Your Risotto
You can put pretty much anything you like in a risotto. Once you've got the hang of it you don't need a recipe, you just need to open your cupboard and see what you have. Here are a few ideas to start you off.
Broad beans (fav beans)
Butternut squash
Pumpkin
Celery
Peas
Green beans
Prawns
Chicken
Mushrooms
Courgette (zucchini)
Carrot
How to Make Risotto
Heat your stock in a pan.  Keep it simmering gently whilst you cook the rest of the risotto.
Cook your base ingredients. I use a small amount of bacon, an onion and other vegetables such as courgettes and carrots. I cook them in butter.
Add a glass of white wine and let it sizzle away.
Add your rice.  I use 300g for a family of 6 (but with young children). If you have lots of veggies too, you won't need so much carbohydrate (rice).
Cook the rice for a few minutes before you start to add the stock.
Add the stock a ladle full at a time.
Keep stirring. As you stir, you break down the starch of the rice, giving the risotto a rich creamy consistency.
Add more stock. When the liquid is absorbed, it's time to add another ladle full. Remember to keep stirring. This is the bit that takes time!
After about 15 minutes, you can add any other ingredients that don't need much cooking, such as prawns. You can also cook things like broad beans (fava beans) in the stock, then fish them out and put them the main pan (if they go in before that's fine.)
After about 20 minutes, it'll be getting nearly ready. Give it a try and see if the rice is cooked. It should be 'a dente' meaning not soggy but has a little bite. You are aiming for a relatively thin consistency such that it falls off the spoon when you hold it up. If it is too thick, just add more stock.
When the rice is cooked, turn off the heat. Add a blob of butter and some grated parmesan. (It's worth paying a bit more for some good quality parmesan if you can.)
Allow it to rest for a few minutes before mixing it all up and serving.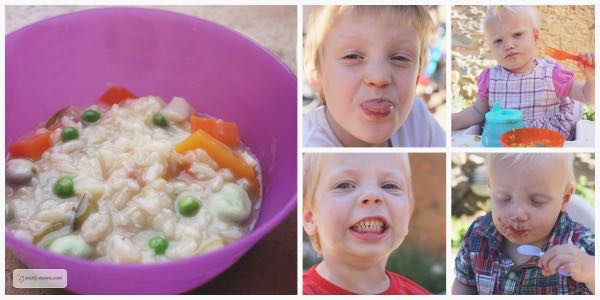 Risotto is a great meal to add to your 'repetoire' of cooking. It is a great, healthy meal that kids love. It may take you a few times to get used to it, but once you've got it, it's really easy.
I often serve it with extra vegetables on the side, perhaps a healthy salad. If the kids don't eat the salad, don't worry. They are still learning by watching you enjoy the healthy salad.
Babies Can Eat Risotto 
Risotto is great for all the family. If your baby is under 1, remember not to use salt . If your baby is eating puree, you can whizz it up to make it a smoother consistency. Gradually move them to more lumpy food and before you know it, you'll all be eating the same.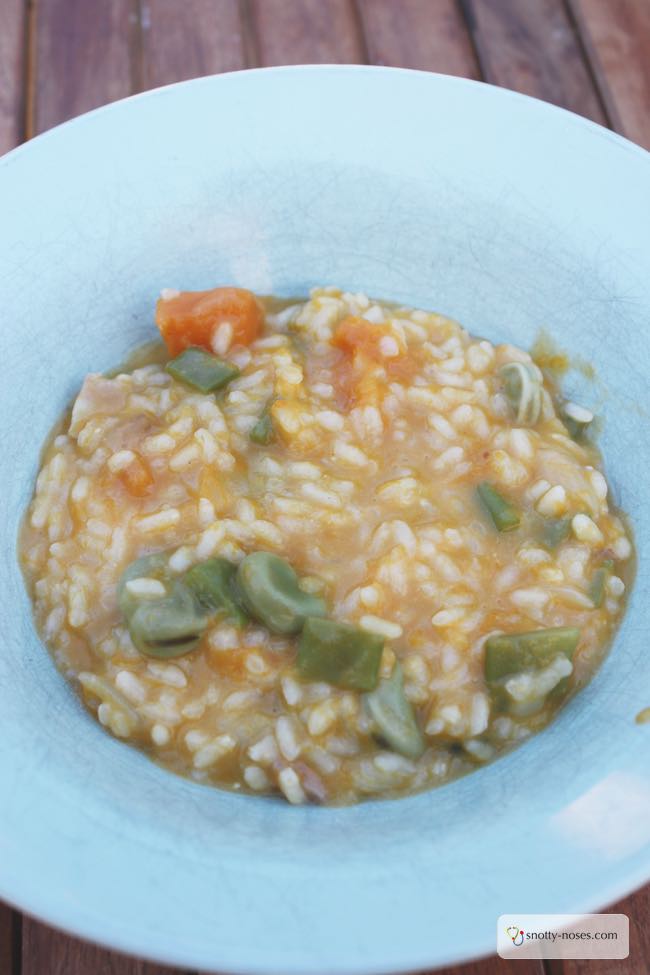 Trouble Feeding Toddlers?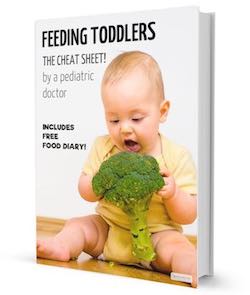 Are you having problems with feeding your toddler a healthy diet? It can be SO frustrating at times. Check out my Feeding Toddler Cheat Sheet and Food Diary, that you can get for free. Just sign up to my newsletter and I'll send you helpful tips for the most stress free way to teach your kids healthy eating habits from an early age.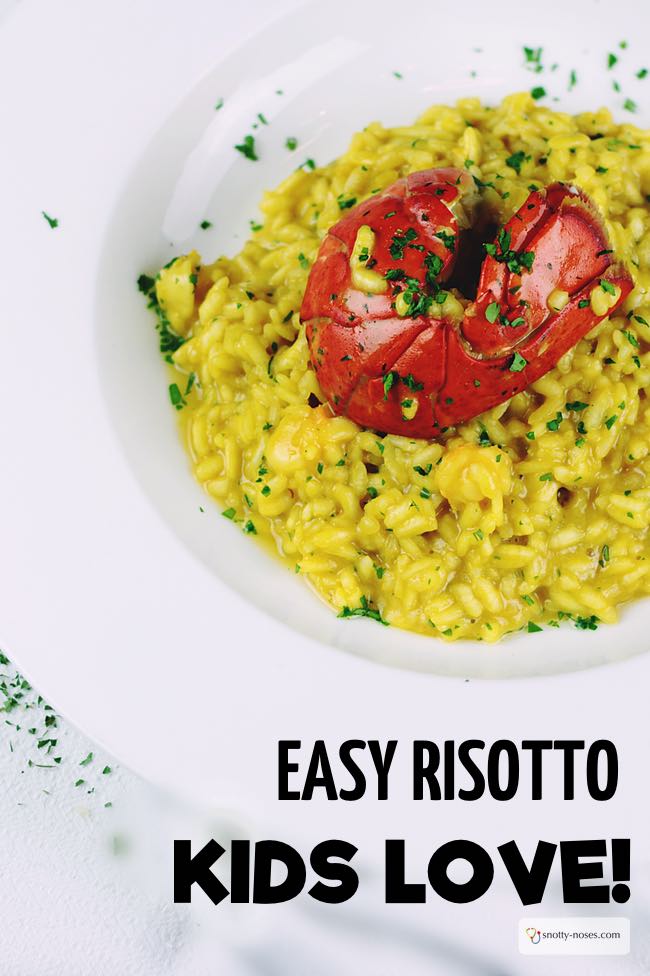 SaveSave