You know that "carrot cake" is healthy because it has carrots in it right? This is an extra healthy version with "less than normal sugar". This carrot cake recipe is my stand-by birthday cake recipe but it also makes a healthy snack that you can take to the beach.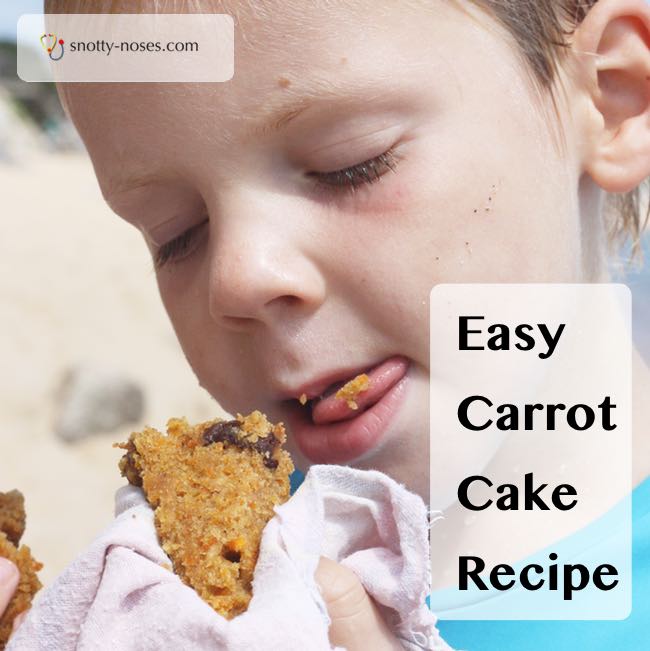 This post contains affiliate links.
Cooking with Kids
This carrot cake is so easy that my kids love to help make it. This time, it was the twins who are two who helped. They had a go at peeling carrots, cracking eggs and pressing the button on the magi mix. What fun!
Healthy Carrot Cake
Carrots and coconut  are both high in fibre. This carrot cake has less sugar than most cakes, especially shop-bought cakes but even most home made cakes,  so in terms of cakes and treats, it definitely counts as healthy.
Moist Carrot Cake
This recipe uses oil instead of butter so that it turns out super moist. Galen said it was "the best cake ever"!
Ingredients for Carrot Cake
3 cups (400 g) of carrots, peeled
3 cups (400 g) flour
4 eggs
1 teaspoon baking powder
2 cups (300 mls) oil (I use olive oil but sunflower oil will work too)
2 cups (250 g) sugar
1 cup (150 g) desiccated coconut
6 teaspoons of cinnamon
2 teaspoons bicarbonate of soda
1 cup (120 g) raisins
1/2 cup (120 mls) water (depending on consistency)
A large baking tin. (This is a big cake, large portions for 6 of us for 2 days.)
How to make Carrot Cake
I use a food processor to do everything. It's super easy.
Preheat oven to 325 °F (170 °C).
Grate carrots in the food processor.
Change the fitting to the 'mix' fitting and add all the ingredients except the raisins. Add the water last as you may not need it. You want it to be liquid but not too runny, like a soft-serve ice cream.
Mix in the raisins (don't use the food processor unless you don't want them whole.)
Put in your cake tin.
Bake for 45 mins.
What an awesome and easy healthy carrot cake recipe. I hope you love it as much as we did!
If you'd like more great recipes to cook with kids, there are heaps on the Cooking with Kids Page.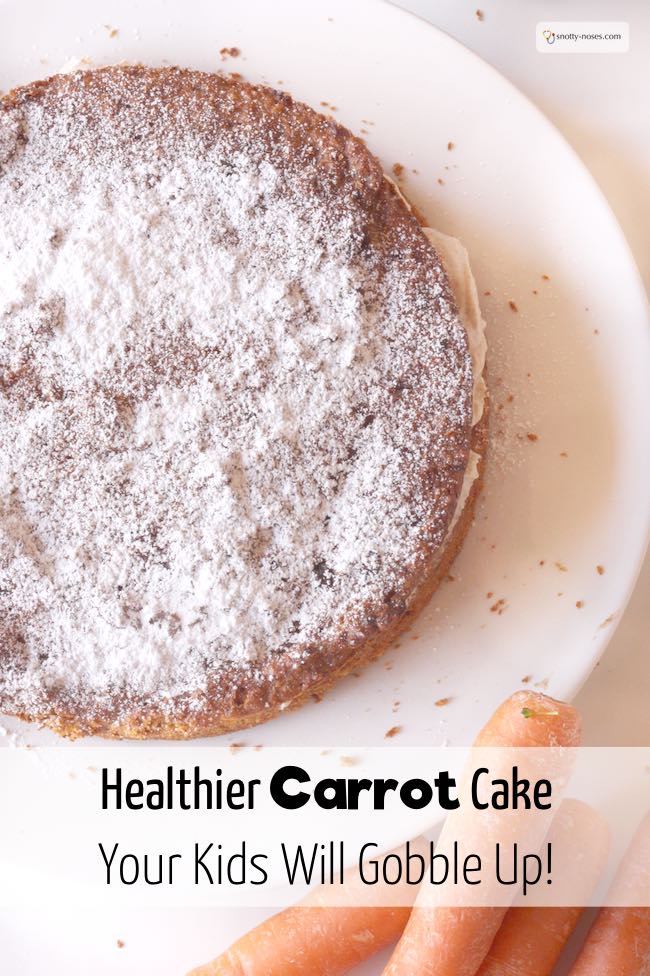 SaveSaveSave