Homemade popsicles are very easy to make and can be used as one of your healthy snacks or a fruit dessert. My kids love them, especially in the summer when it's so hot. They are refreshing and healthy. What more could a busy parent want?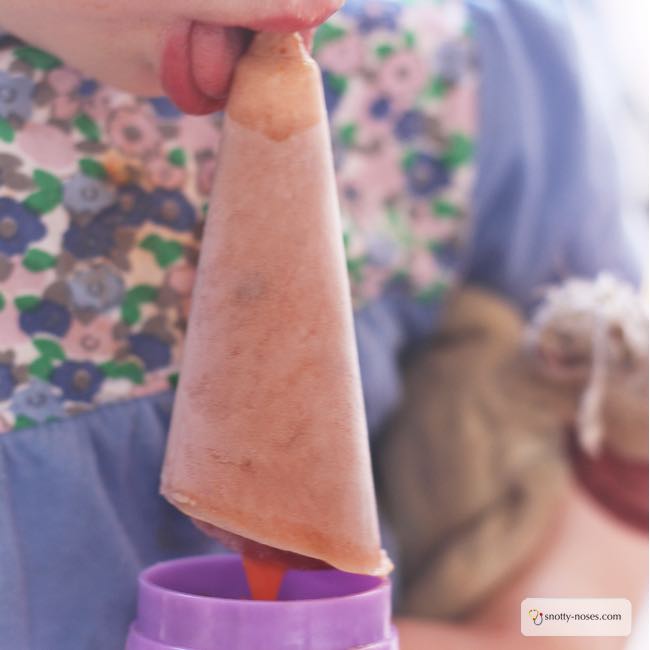 This post contains affiliate links.
This recipe is really easy. I usually bake a whole batch of peaches at once and then use them in various ways. Peaches for breakfast, peaches and yoghurt, or peach popsicles.
If you don't want to bake lots of peaches, you can simmer them on the stove for 15 minutes on a gentle heat. Add a little water and vanilla to make them super tasty. When they are cool you can take out the stones and whizz them up.
Peach Popsicles Ingredients
This makes roughly 8 - 10 popsicles
Peach puree 200 mls (from your baked or simmered peaches.)
Greek yoghurt 250 mls.
Vanilla extract 1 teaspoon (if not already in your peaches puree.)
I use unsweetened, full fat greek yoghurt. Make sure you have good quality vanilla extract (rather than 'flavouring' which isn't really vanilla). (This is my favourite vanilla extract that you can order from amazon UK or USA.) Don't worry too much about the quantities.
Peach Popsicles Method
Mix up the puree and the yoghurt.
Pour the mixture into your popsicle moulds.
Freeze overnight.
If you have some left over and don't want to waste it, it makes a great desert all by itself. You could add some nuts or other dried fruit to make it extra special.
Or you could freeze it in ice cube trays for more frozen fun. I love using different shaped ice cube trays.
The great thing about popsicles is that you have something homemade that you can whip out whenever you need it. Not that they last long in our house.