Thursdays are a busy day for us. The kids all do after school activities and I'm busy dashing from here to there collecting, dropping off and not being at home to cook. So when we finally all get home, everyone is ravenous and jumping up and down in anticipation of dinner. Which of course makes it all the harder for me to prepare.
How Can I Have Dinner Ready and Waiting for Us?
When I step in the door, I want to be greeted with a delicious aroma of dinner that is cooked to perfection. Or a close second, an easy dinner that is quick to prepare.
And of course is has to be tasty, healthy and stand a chance that the kids will eat it rather than flick it around their plate and scream "yuck!"
Option 1. Get a Slave with an Apron.
The first option that springs to mind is to get super stinking rich and employ a full time cook, preferably tall, dark and muscly.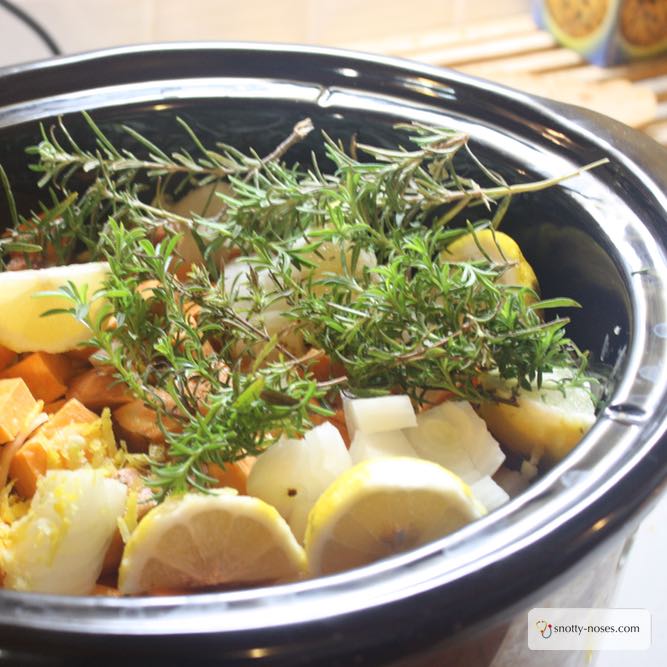 The second idea I had was to order a house elf. Sadly the prototype I have is much better at tipping things all over the floor than cooking dinner but it's another long term plan.
This article contains affiliate links.
Option 2. Prepare Dinner Ahead of Time.
Fortunately there are many (slightly more boring) ways to get dinner ready for when you all pile in after a busy day out. Thank you to all my readers and friends for their suggestions. Sadly they do need some preparation and fore-thought but once you work them into your routine, you'll find them a life saver.
Use a Slow Cooker or Crock Pot.

Slow cookers were the hands down winners! They allow you to prepare a meal ahead of time, plug it in and have it ready and waiting for when you walk in the door. You can cook pretty much anything in them, but they're perfect for wintery soups and hearty stews. I like to stick to the recipes that are quick and easy. Some are more complicated that others but you can find pretty much whatever you need. If you have an aga or a Rayburn you can slow cook things every day. This crock pot even has a timer. (I so wish mine did!)

Prepare ahead and Heat up.

After lunch or the night before, I cook up a sauce, (think vegetable pasta sauce, or vegetable chilli.) When everyone gets home, all I have to do is heat it up a bit and cook the pasta or rice. This also works well with some meals such as chorizo stew.

Quick and Easy Meals.

Our favourite ever is healthy carbonara. My kids would happily eat it every day if I let them. Or healthy baked beans (my kids claim that they are a lunch meal but if you don't tell your kids that they'll never know).

Packaged food with lots of Veggies.

Not all packaged food is entirely evil. You can easily make it more healthy by adding a mountain of veggies to transform it into a balanced and healthier option. Look at the packets and pick out the ones with the most healthy ingredients (look for a short list of ingredients.) Think packet pizza with peas, carrots and sweet corn. Or sausages with beans, broccoli and zucchini (courgette).

Pre Prep Things.

Chop veggies, marinate meat or fish. Get as much done before hand as you can. If you are really organised, I know lots of people who "prep 5 meals in an hour". Obviously you have to do some meal planning to know which 5 to prep!

A healthy Starter.

When you're finding it impossible to move because the kids have wrapped themselves around your legs and are screaming "food, food, food!" Give them a healthy starter. Vegetable soup keeps well in the fridge and is easy to heat up. Or if you have zero time, cut up vegetable stick, or cold left over vegetables. Think lots of vegetables so that they'll eat the veggies whilst they're hungry and then you don't have to worry about them eating more with the main meal.

Meal Plan.

Life is much easier if you know what you're going to prepare ahead of time. If you step in the door and rifle through the cupboards, you'll be stressed and resort to "whatever you can find". Probably something out of a packet. If you know that tonight is "carbonara with beans" you can step in the door and get on with getting it ready.

Freezer Meals.

When you do have time to cook, make more than you need and put some in the freezer.

Left Overs.

Re-fashion left overs to make a different meal. Turn pasta into pasta bake, random sauces into soup. Or try "fridge buffet night" everyone gets to choose a leftover.

Use the Oven and a Timer.

One of my favourite easiest meals to prepare is an "oven meal". If your oven has a timer, you can time it to make sure it's ready as you walk in the door. I love baked potatoes with other baked veggies (I know my kids won't eat lots of them but they will try some.) Or a chicken tray bake with lots of veggies is another easy and healthy option.

Rice Cooker with a Timer.

You can cook more than just rice in a rice cooker. I'm not an expert, but I have a reader who says she prepares pasta dishes as well.

Eat Cold.

A great option for the summer. Salad, cold vegetables, pie, cold fish, meat or eggs. All can be ready waiting for you in the fridge.

Jar of Sauce and Fresh Veg.

Shop bought sauces can be a life saver and when served with fresh vegetables are quick and healthy. We love soba noodles and pesto, cooked with broccoli and served with a tin of sweet corn and chopped up salad. Or a curry sauce made into vegetable curry with loads of fresh vegetables. Easy, quick and healthy.
Make Small Changes and Work them into Routine
In the absence of a magic wand, I hope these ideas will transform your frantic evening into a calm and peaceful one. Try one thing and see how it goes. If you like it try it again and turn it into your routine. So instead of resorting to take you, you'll walk in with screaming kids, dish out a tasty and healthy dinner and half an hour later they'll be squabbling over who did the dishes yesterday.
Pin It For Later
SaveSaveSave