Soup has to be one of the easiest, healthiest and most versatile meals out there. If you're a busy mom and don't have soup in your tool kit, it will change your life! (Seriously it's that good!)
Invent Your Own Super Quick Soup
Have a few left over vegetables? They make an easy soup. Warm them, whizz them up, add a bit of stock if you like and hey presto you have a lunch or dinner on the table in 5 minutes!
Related: How to Get a Warm Lunch on the Table in Minutes
Related: How to make homemade stock
Easy Family Health Boost
This post is part of the Easy Family Health Boost. 
Thank you to all the contributors who have donated their recipes to include.
The "Boost" will inspire you to take control of your diet and feed your family in a healthier way. In an easy and tasty way.
To join the "Boost" is free. Just sign up. You'll get a free copy of the YUM cook book.
I hate spam and promise not to share your email with anyone else. You're free to unsubscribe whenever you like. (Although I hope you don't as we're going to be having so much fun and I want you to join the party!)
Find out more and join the Easy Family Health Boost.
How to Eat More Healthy Soups
Book mark this page. (If you sign up for the "Boost" you'll find it in your "membership site".) Find one recipe that you think your family will like. 
Set a date to make it.
Don't be discouraged if they don't like it! It takes time for people (partners and children) to get used to new foods and new ideas.
Come back and try a new soup.
Some recipes will be an instant hit, others you might not like. 
Tiny Bowl of Soup for Fussy Kids
If you have fussy kids, I recommend serving the soup in a tiny bowl. I like to use an espresso cup. My kids are wary of anything new. Even if I've made a soup before they consider it "new" as it might taste slightly different.
A tiny bowl is much less intimidating than a large bowl.
Healthy, Easy and Tasty Soup Recipes Your Family Will Love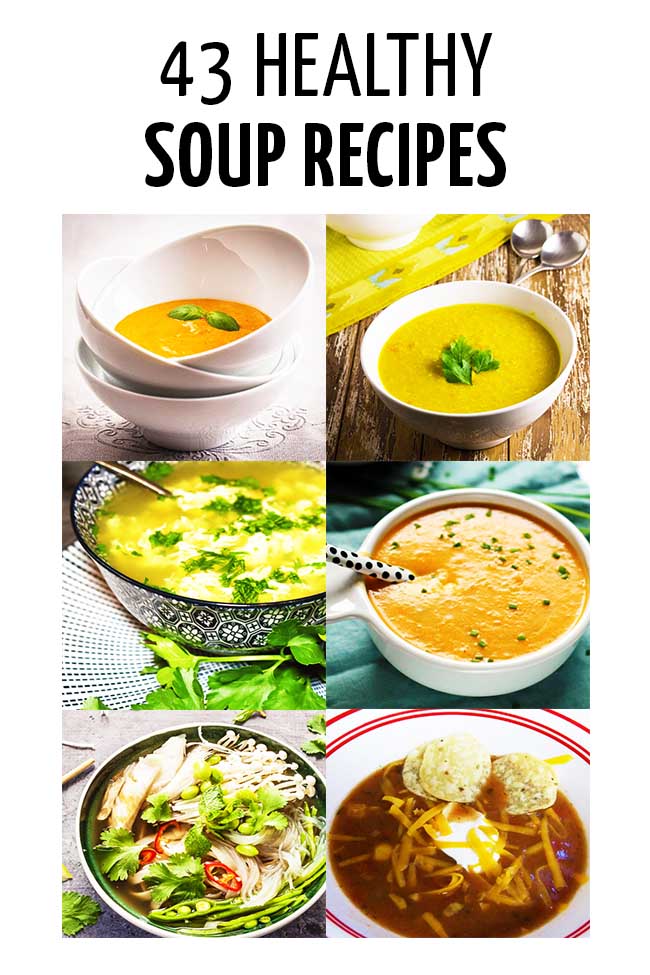 3. Easy, Inexpensive Taco Soup that Kids LOVE!
4. Roast Pumpkin and Coconut Soup
5. Smoky Root Vegetable Soup with Goat's Cheese
7. Appetizer Soup from Red Bell Pepper, Garlic and Basil
8. Curried Cream of Cauliflower Soup
10. Classic Chicken Noodle Soup
13. Slow Cooker Vegetarian Green Split Pea Soup
14. White Kidney Bean and Spinach Soup
20. Spicy Chicken Soup with Peppers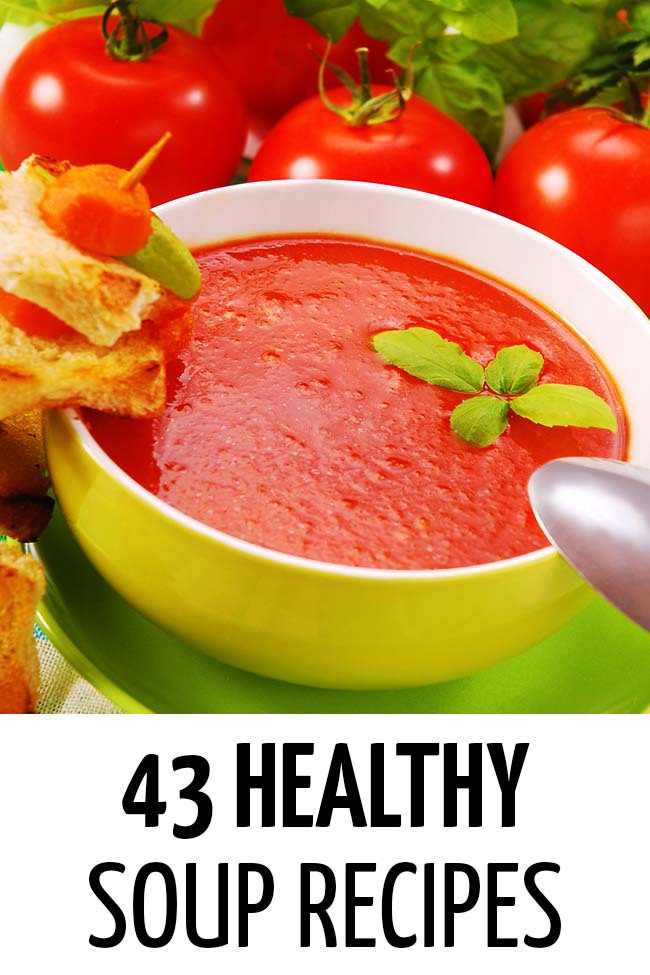 21. Creamy Coconut Curry Chicken Vegetable Soup
22. Thai Coconut Curry Soup with Chicken and Chickpeas
23. 4-Ingredient Avocado Chipotle Soup
23. Extra Creamy Cream of Pumpkin Soup
25. Easy Gaspacho
26. Quick and Easy Spicy Tomato Soup
27. Easy and Delicious Spanish Chorizo Stew
28. No fat root vegetable slow cooker soup
29. Fat free pea and lettuce soup
31. Spiced pumpkin, carrot and sweet potato soup
32. Low-carb Chicken Noodle with Noodles made from cheese
33. Detoxifiying Green Goddess Soup
34. Cream of Broccoli And Cauliflower Soup – With Crispy Bacon
35. Celery Root, Leek and Bacon
36. Winter Squash And Ginger Cream Soup
38. Creamy Vegan Cauliflower & Potato Soup
39. Chicken Vegetable Soup with Quinoa
40. Vegan Butternut Squash Soup - Gluten Free
42. Chipotle Lime Chicken Soup
43. Broccoli Stilton Potato Soup
44. Black Bean Soup with Quesadilla Dippers
45. Thai Bean, Coconut and Lime Soup